Let's turn back the clock prior to 2020. How many accounting firms worked remotely? Unfortunately, I couldn't find any specific statistics on accounting firms. But, according to the U.S. Census Bureau's American Community Survey, less than 6% of people worked primarily from home in 2019. That meant remote team building wasn't something many companies thought about.
Then, COVID-19 happened, and many companies were forced to go remote. While many employees enjoy a full-time role working from home, some prefer hybrid models, while others prefer working in an office setting.
Now that we've cleared the COVID-19 hurdle, many firms are sticking with more flexible work arrangements, namely remote or hybrid work environments. And your firm may be one of them. So, if you're curious about how you can build trust on a remote or hybrid team, we have seven strategies for remote team building.
Let's dive in.
Maintain open and transparent communication

One of the most critical aspects of remote team building is communication. Whether your team is working remotely or you've established a hybrid working environment, ensure your team's success by encouraging real-time collaboration through communication channels. Use platforms such as Microsoft Teams, Slack or Google Chat for direct and group messaging, along with video calls for seamless communication.
Be sure to emphasize the importance of transparent communication, so team members feel empowered to openly share updates, ask questions and provide candid feedback. This will help promote an environment where everyone feels valued and heard.
Schedule at least one weekly check-in meeting with your staff to discuss current projects or address challenges. By maintaining open and transparent communication channels, firms can foster strong connections, trust and collaboration among their remote and hybrid teams.
Set clear expectations
For your staff to understand their roles, responsibilities and goals—both their own and the firm's—you must set clear expectations. Establish guidelines and ensure they're communicated to your entire team. Expectations should include:
The role of each staff member.
The tasks each team member handles.
Expected response times during working hours. (Bonus points if you remind them there are zero expectations of working outside regular hours.)
Timelines and deadlines for tasks and projects.
Providing clarity around roles, responsibilities and tasks will help team members stay focused, motivated and productive. It also promotes accountability and minimizes confusion among your staff. Be sure to regularly review and communicate any changes to expectations that may occur within projects. By setting clear expectations, your firm can provide a solid foundation for successful remote team building.
Establish a healthy culture

Building a healthy firm culture is essential for a remote or hybrid team. And it starts with firm leadership. As much as you'd probably love to declare that you have a rocking team culture and poof! it happens…the reality is that it takes a consistent effort to create and maintain a healthy culture. It starts organically with the Four Cs: clarity, candor, connection and consistency.
Clarity is knowing the WHAT, WHO, HOW and WHY of your firm. This means you know what products and services you want to sell, who your ideal clients are, how your business operates and why your work matters.
Candor ensures your team can provide honest feedback (both good and bad) without fear of repercussions. It includes keeping your team involved and part of important conversations, especially those that directly impact them.
Connection occurs when your team feels seen, heard and valued. It's when you take the time to publicly show appreciation and encouragement—which helps your team thrive.
Consistency is combining all three points above…consistently. It happens when you intentionally dedicate time to making small, incremental changes to keep your employees engaged.
Remote team building may seem close to impossible, but it really isn't as long as you make a concerted effort. Make sure to promote awareness around your firm's mission, vision and values so everyone's on the same page.
To help bolster remote team building, create a culture task force that can help promote connection among your team. They can lead the way in encouraging others, researching appreciation gifts, and planning fun firm activities and retreats. By establishing a healthy culture, your firm can create a positive and engaging remote (or hybrid) work experience that promotes collaboration and employee satisfaction.
Provide access to your tech stack
A robust tech stack helps promote seamless communication for remote and hybrid teams. Make sure your staff has access to the tools and applications they need to collaborate and do their jobs efficiently. Your firm's tech stack should include the following:
Accounting applications. Your accounting tech (e.g., QuickBooks® Desktop, QuickBooks Online) should be cloud-based or hosted for ease of real-time collaboration.
Team-oriented work tools. To keep the lines of communication open across your remote workers, provide cloud-based tools your staff will use daily. Google Workspace and Microsoft 365 offer browser-based and app access to their suites of applications. Use these tools to make collaboration across document types (e.g., spreadsheets, documents, presentations) much easier.
Collaboration platforms. We mentioned the importance of communication earlier and how tools like Zoom, Slack, Microsoft Teams and Google Chat can help keep your team in touch. You'll also want to use these to collaborate with your clients.
Cloud storage and document management. The easiest way to store and share important documentation is by using cloud storage tools like Google Drive or Microsoft OneDrive. And other tools like SmartVault, Expensify, BILL, LedgerSync and Dext help keep your firm 100% digital—and protected from cyberthreats.
Practice management solutions. When you have a remote or hybrid team, it's important to ensure that daily operations run normally. A simple way to define a seamless workflow, track tasks and deadlines, and automate daily processes is by using a practice management solution such as Onvio or Practice CS from Thomson Reuters.
Having a streamlined tech stack makes onboarding new staff members a breeze. Remote team building occurs through applications that help your staff communicate, collaborate and work efficiently. These tools also have a positive impact on your firm's productivity, even in a remote environment.
Support work-life balance
One advantage of remote or hybrid work is that it can help firms encourage a better work-life balance for their employees. Instead of requiring all team members to be active during the typical 9-to-5 workday, provide flexibility—as long as work gets done well (and on time). It's important to actively support your staff in maintaining a healthy balance between work and personal lives.
Remote team building is elevated when you encourage your staff to take breaks, set realistic work hours and prioritize self-care. Your team is happier, and they produce better results for your firm. Make sure your staff disconnects from anything work-related during non-working hours to help prevent burnout. This will build trust in your team, promote staff well-being and enhance job satisfaction—all winning qualities of a remote work environment.
Check in consistently
Another strategy for remote team building is scheduling regular check-in meetings with each of your staff. We'd recommend a 15-minute meeting at least every other week, so your team members can provide feedback and address any concerns they may have. It's also a great time to check their mental health to ensure they're not overloaded with work.
Be sure to also talk about non-work-related items, like hobbies, interests or anything fun they have going on outside the office. This type of interaction helps strengthen personal connections and helps foster a healthy firm culture. The key is keeping a regular cadence when it comes to checking in.
Plan remote team-building opportunities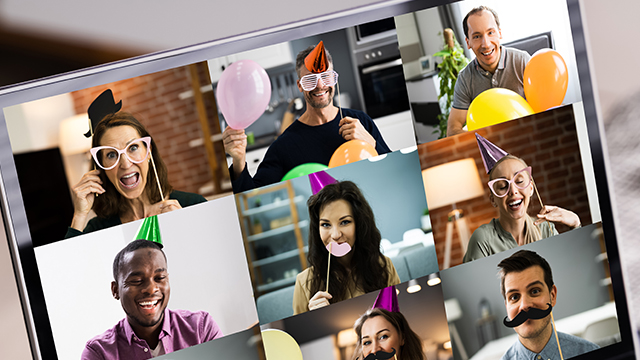 Remote team building doesn't have to be limited to just work. Plan and organize virtual team-building activities to help foster a fun and exciting work environment. This will help promote bonding among staff and strengthen relationships among the remote team. Team-building activities could include:
Virtual trivia or quizzes: Organize an interactive trivia or gaming session with online platforms like TriviaHub or Jackbox Games.
Virtual escape rooms: Promote team engagement with a virtual escape room experience to solve puzzles and uncover clues with platforms like The Escape Game Remote Adventures.
Online workshops or training sessions: Arrange virtual workshops or training sessions for professional development or topics of interest within your firm. Hire speakers or thought leaders within the profession to speak with your team.
Online happy hours or coffee breaks: Schedule some time once a month for a relaxed coffee chat or happy hour fun with the team. Encourage casual conversations and have staff share interesting stories to help everyone connect.
Keep in mind that these team-building opportunities should occur within regular work hours so that everyone can attend. This also helps you promote a healthy work-life balance for your staff.
Build trust in your team
If your firm operates in a fully remote or hybrid model, remote team building is essential to your success. By implementing the strategies we've mentioned above, you'll foster strong connections, increase collaboration and improve productivity among your team. Give your employees the tools they need to successfully work remotely and the autonomy they need to meet and exceed your expectations.
You've got this!
If you'd like to learn more about building a remote or hybrid team, become a Rootworks member today. We have all the resources and encouragement you need to go virtual.
Recommended next