Rightworks OneSpace Firm Premier
The dedicated cloud customized for your firm
Simplify how your firm operates with a turnkey, secure and fully managed cloud application and infrastructure experience customized for accounting firm workflows.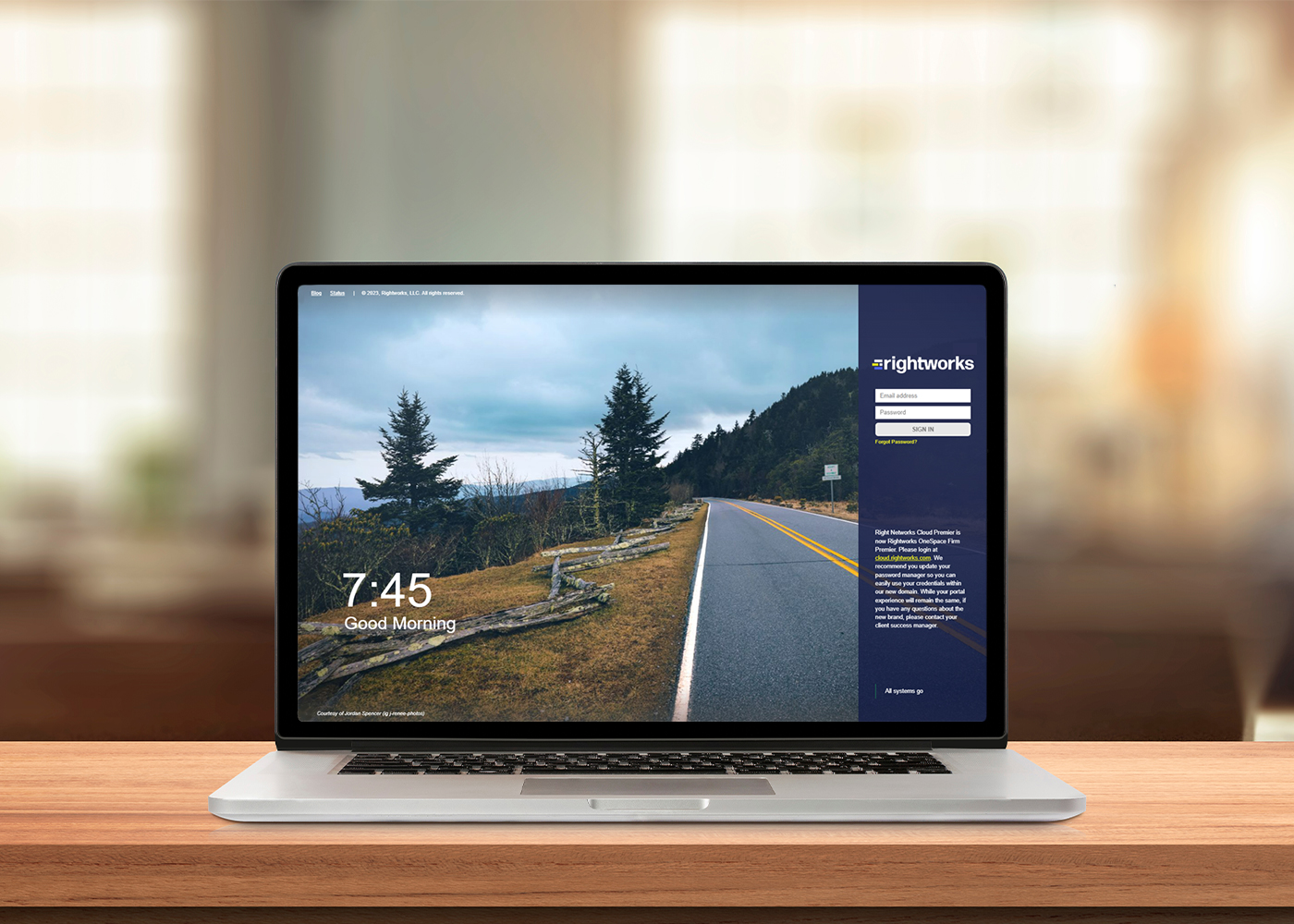 Simplify and scale
Join the hundreds of firms using OneSpace Firm Premier
Optimize your firm's technology, onboard new employees or new offices in minutes, and enjoy on-demand application access to achieve maximum efficiency and profitability. Using our intelligent cloud platform built for accounting firms, access your firm's technology resources from anywhere, with enterprise-grade security and 24/7 support.
100% firm-focused
Receive technology guidance from 170 specialists who are experts in onboarding, data security, application updates and cloud technology with 20+ years of experience.
Every app your firm uses
Enjoy customized, easy-to-use, single-login access to all your business-critical applications, with over thousands of applications supported.
Performance you can count on
You need a route to the cloud with reliable performance and room to grow. With Rightworks, you get 99.999% uptime, limitless scalability and fast connectivity, so you can get back to your clients.
Make teams highly productive
Enable your administrators to onboard new users in minutes, and grant your team access to your firm's technology resources no matter where they're located.
Total security = peace of mind
OneSpace Firm Premier features a robust security framework, designed to protect you and your clients. Our environment is MFA-enabled, and we provide both on-site and 24/7 monitoring services.
24/7/365 support
Enjoy an assigned success team, a specialized technology team and 24/7, US-based support with the highest level of customer satisfaction.
Be the technology advisor your clients trust
Deliver Rightworks technology to your clients
Clients already trust you with their tax and financial data—why not further demonstrate your commitment to delivering exceptional services that protect and empower with market-leading solutions?
When you offer Rightworks Managed Security and QuickBooks® cloud hosting packages, you provide your clients with significant benefits:
Enhanced advisory services: Strengthen your relationship with expert advice on technology solutions.
Streamlined license management: Seamlessly manage licenses from a single location, making it easier to track license usage, ensure compliance and avoid overpaying for unused licenses.
Heightened security: Ensure peace of mind with robust device security and comprehensive employee security training.
Secure collaboration: Enable your clients to conveniently work together while ensuring the confidentiality and integrity of their hosted QuickBooks files.
Your choice of thousands of applications
Preferred partner to the accounting profession's tech leaders
Seamlessly integrate software and optimize app performance with Rightworks OneSpace, the preferred partner of the accounting profession's technology leaders.
Flexible work made easy
Get the competitive advantage your firm needs
In today's mobile workforce, reliable application access is vital for attracting and retaining top accounting talent. With OneSpace Firm Premier, you can:
Gain a competitive edge by hiring talent from anywhere.
Accelerate onboarding of new employees or offices.
Eliminate scalability and performance concerns without unexpected costs.
Ensure a consistent technology experience for all employees.
Serve your current workflows and provide one-click access to everyday applications.
Promote employee work-life balance.