The traditional accounting business model is no longer adequate to support a highly profitable and sustainable firm. The old ways of taking on any client who walks through the door; adopting an "it will never happen to me" cybersecurity attitude; working with an outmoded tech stack; and clinging to an inflexible, work-onsite-only mindset when it comes to staffing and firm culture are all barriers to elevating your firm to modern status.
It's time to get smart about your business. By applying our proven and tested smart management series—which serve as the foundational pillars of The Modern Firm®—you can build a high-performance practice and move your firm to the vanguard of the profession. The new accounting business model is one that supports only ideal clients, a holistic approach to cybersecurity, cloud-based technologies that lead to unprecedented workflow efficiencies, and your ability to attract and retain team members who love their jobs.
If all this sounds good, then read on to learn more about the four smart pillars that support today's progressive, modern accounting firm and can lead you to a big win.
Smart Firm Management
Smart Firm Management represents everything operations-based within your firm. The goal is to implement a modern accounting business model that enables streamlined, automated workflows across departments and roles to run at peak efficiency and make everyone's lives easier.
The ideal business model enables you to create a standardized tech stack, optimize workflow firm-wide, and enhance broad practice management and market presence. Why? Because elevated levels of efficiency lead to time savings—allowing you to focus on growing the business over simply maintaining it.
When you follow this approach, you'll be well-positioned to create a sustainable practice, attract the next generation of clients and staff, and bolster business value overall.
Smart Client Management
At its core, Smart Client Management is the new, modern approach to building your book of business. By moving out of the traditional business model and thinking modern, you can create a roster of ideal clients, enjoy recurring revenue via higher-value advisory services, and balance workload to create a happier and more sustainable workforce.
Consider each:
Ideal clients: These are the clients you're good at serving and like to serve. This can mean supporting only clients within a specific niche (e.g., construction or healthcare). If you have vertical-specific expertise, it's easy to take on numerous clients and then apply your expertise across the board via ready-made, "off-the-shelf" products. No more reinventing services to meet the needs of disparate clients (i.e., any client who walks through your door).
Advisory services: Offering high-value advisory services allows you to support clients at a much deeper level and elevates the sticky factor (like Super Glue-level sticky). You'll not only enhance your trusted advisor role but also open up a recurring revenue stream that bolsters profitability.
Happy staff: A healthy, balanced work culture is a key attractor of qualified, high-performing staff. The new accounting business model calls for flexible work schedules, virtual workspace options and a powerful tech stack that allows staff to work within automated, streamlined workflows. And it can all be done from anywhere, at anytime and from the device of their choice.
It's time to ditch the old way of running your practice and operate a modern firm by applying the Smart Client Management approach.
Smart Security Management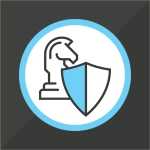 Smart Security Management supports a holistic approach and methodical strategy to protect your firm from the ever-present threat of cyberattacks. And because firms are a prime target for cybercriminals—rich with highly sensitive client data—it's never been more important to take cybersecurity seriously.
This approach helps safeguard the critical apps you use every day and minimize the threat of human error. (Remember, it only takes one employee clicking one malicious link to bring your firm to a screeching halt.) This is possible when you offer ongoing and frequent security training for staff and provide protection for all devices used to perform and deliver work.
Applied intentionally, Smart Security Management helps improve continuity and recoverability. How? By securing business-critical applications in the cloud, preventing unauthorized access to work devices, and strengthening your first line of defense (your staff) with proper security training.
Smart Team Management
Staffing has been a long-standing and major challenge for years. And with an ever-shrinking candidate pool, it's time accounting firm leaders got creative. The key is to create a work environment that attracts the new generation of employees while enticing existing staff to stay. This can be accomplished when you build a firm where people love their jobs.
The Smart Team Management approach offers a clear guide to creating a healthy and sustainable firm culture. Leveraging advanced technologies and tools, setting clear expectations and goals, and appointing a Team Culture Leader are just a few ways to develop a modern, healthy and enjoyable work environment. And when you do, you'll experience significant operational efficiency gains, reduce staff challenges while boosting team member engagement and improve the broad client experience. When you have happy staff, it also elevates the client experience—so everyone wins!
Get a smart accounting business model and win
Today's clients want more from their accounting professionals—including easy access to data and documents via mature, powerful cloud-based solutions and deeper advisory services. And no one needs to remind you that staffing continues to be a major issue for firms everywhere.
To compete and win in today's accounting landscape, you have to go modern. The smart pillars serves as a detailed guide for creating a firm with lasting power by adopting a modern accounting business model. One where you only onboard ideal clients, operate at peak efficiency across departments and roles using advanced technologies, and staff not only love their jobs, but never want to leave.
It's time to get smart about building a highly profitable, high-performing and cyber-secure business. When you do, you can enjoy a long, revenue-rich and bright future.
***
For more information on our smart series and building a modern firm, talk to us about becoming a Rootworks member today.
Recommended next