Many accounting firms are ready to take the first step toward becoming a modern firm…but are overwhelmed with where to start. Stop me if these scenarios don't apply to you:
Your client list is too long and full of non-ideal clients.
Tax seasons never seem to end.
Your firm's culture is struggling.
Your workflow and processes are hindered by the lack of automation (i.e., your tech stack).
You want to incorporate more advisory services into your business model.
Here at Rootworks, we understand the struggles firms are facing these days. It's easy to get bogged down with your firm's day-to-day tasks and lose focus on strides toward firm improvement. That's why we created The Modern Firm® Retreat. If you're a firm owner, partner or leader, this must-attend retreat will put you on the path to creating the firm of your dreams.
What is The Modern Firm Retreat?
If you're looking for a more intimate, workshop-style event that gives you practical—and actionable—steps to achieve a modern firm, you've found it! The Modern Firm Retreat will help you think about the future of your firm.
This two-day retreat takes you on an informative, tactical journey toward building a successful modern accounting firm. You'll come away with actionable insights, strategies and tools to help simplify operations, increase firm productivity, address cybersecurity concerns, enhance client experience, elevate per-client revenue and improve firm culture.
"If you're ready to make a real change in your firm, then go to this event. But even if you want to know what changes are possible—go to this event."  – Todd Duthie, Kohler & Eyre, CPA's
Learn about the Rootworks model
The Modern Firm Retreat will change how you do business by providing proven strategies for firm improvement. From defining a modern accounting firm business model and implementing the right tech stack to creating an incredible firm culture and developing an intentional brand, we've got you covered.
Discover more about the four smart pillars that create the foundation of The Modern Firm.
Smart Firm Management: Get a comprehensive overview of best practices and insights to help you make smart, informed decisions that drive your business forward (i.e., your firm's who, what and how).
Smart Client Management: Develop a clear understanding of your ideal clients, identify lucrative new revenue opportunities (e.g., advisory services) and retain your best employees.
Smart Security Management: Learn how moving to the cloud can enhance security as well as efficiency on a large scale.
Smart Team Management: Maintain a culture of inclusion, equity and diversity that entices new and existing employees to join your organization.
"If you're looking to sustain the momentum of building your firm, perfecting your business model and keeping pace with technology, The Modern Firm Retreat is a must-attend." – Paul Mueller, Mueller Pye & Associates
Hear from Rootworks MVPs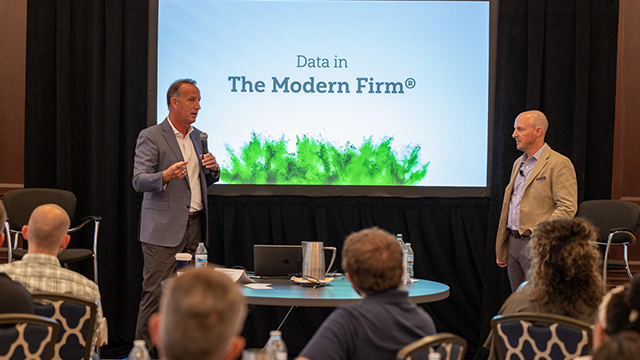 When you join us at The Modern Firm Retreat, you'll not only gain insight from our Rootworks coaches, but you'll also hear directly from Darren Root, Rootworks founder and firm owner of more than 30 years. Join other like-minded firm owners, partners and leaders, and…
Get the inspiration you need to lead your firm into the future.
Learn the high-impact business strategies that drive a modern firm's success.
Discover how automation and cybersecurity action plans help keep your firm streamlined and secure.
Team up with our coaches during workshop sessions to create a strategic action plan to take your dream of becoming a modern firm into reality.
Begin your journey to a modern firm
We know it can be difficult to leave what you know behind. Let us help you take that first step on your journey to becoming modern.
The Modern Firm Retreat is taking place at the Rootworks headquarters on August 30-31, 2023, in Bloomington, Indiana. Seats fill up quickly, so be sure to register today. But don't just take my word for it…
"Go! If you're ready to embrace excellence—and to change your life—you will never forget or regret attending." – Melynda Smith, Bailey Smith & Associates, LLP
The Rootworks team and I hope to see you there!
Recommended next