Metaphor alert: Your accounting firm's website is now the front door to your business.
Gone are the days of potential clients seeing your business on a drive down a busy road or by looking up "accounting firms" in the Yellow Pages. Today, they're looking for a new firm through Google searches. And with Google dominating global searches with a 93.18% market share, what your website looks like really matters. And how you utilize Google Business Profile matters too.
Plus, the average user attention span is only eight seconds, so your website has to grab a prospect's attention immediately…or you risk them moving on to other accounting firm websites. That's why your website content must clearly show the services your firm provides. And for some firms, this is the hardest part of creating an online presence.
If, as you read this, your palms are starting to sweat, and you're thinking, "Uh-oh, they're talking about us. What do I do? Our website really needs help," then you've come to the right place. Here are five strategies to optimize your website so you can convert leads and drive revenue for your firm.
Create clarity around your firm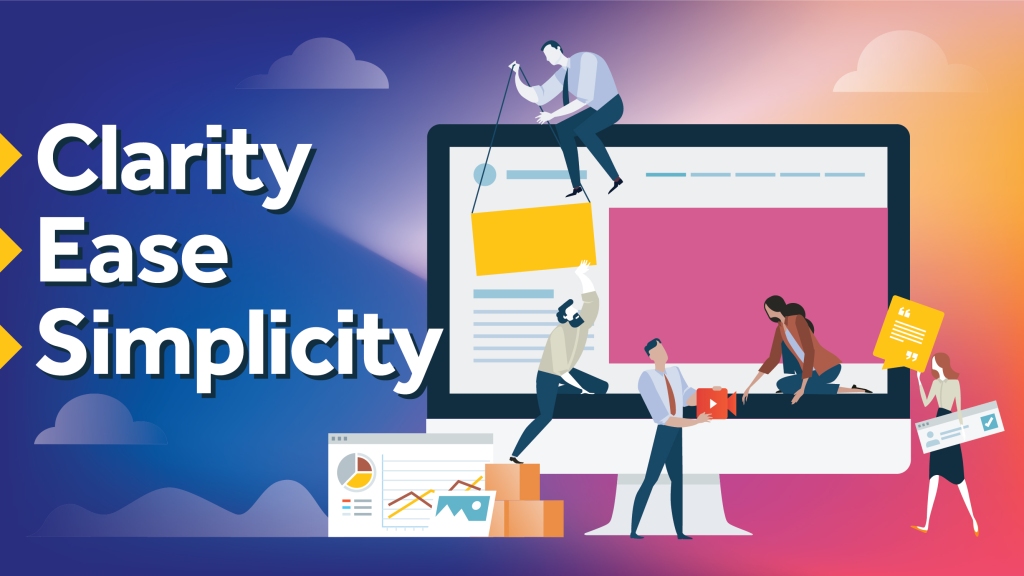 "What would you say…you do here?" is arguably one of the best lines from the movie Office Space—and it's more relevant than you'd think to accounting firm websites. It all starts with a clear business model. If you don't know who you want to serve, what services and products you want to provide, or how you want to deliver those services, that's your starting point. Your website design can wait until you've figured out the WHO, the WHAT and the HOW.
Once your business model is clearly defined and you start thinking about your website, keep these three things in mind:
Clarity. Be clear about what you provide.
Ease. Make sure visitors can easily navigate your website.
Simplicity. Keep the design and content simple and straightforward.
The focus of your website should be clear: It's about recognizing the needs of your clients (and potential clients) and providing clear direction on how you can help them. As much as you'd like to tout your accomplishments, always remember that prospective clients need to see what's in it for them.
Let your business model drive your website content
Accounting firm websites should quickly allow potential clients to see who you serve, the products and services you provide and how you deliver those services (i.e., your business model).
Who you serve. If your firm supports optometrists, dental practices or other service-based businesses, let that be known. Leads should come to your website and see that you either serve their industry or you don't.
What services and products you provide. If you provide bookkeeping, payroll, tax and advisory services, this should be clear on your products (what we do) page.
How you deliver services. If your firm has moved away from shoeboxes of receipts (and we hope you're well on your way to being fully digital, even if you're not quite there yet!), make sure your website reflects that your services and processes are digital.
By making it clear who you serve, the right prospective clients (i.e., your ideal future clients) will find you.
Include clearly defined product pages
This may seem like a no-brainer, but accounting firm websites should include a product page that outlines the products and services your firm offers. And each product or service should have its own landing page that gives more detail, such as the different levels of service you offer for the product and what's included within that service.
What accounting services do you offer? Does your firm offer services such as retirement plan analysis or entity type analysis? This should be clearly stated on your website. Check out our Rootworks demo site for some ideas on how you can promote your products and services.
Provide one place to do business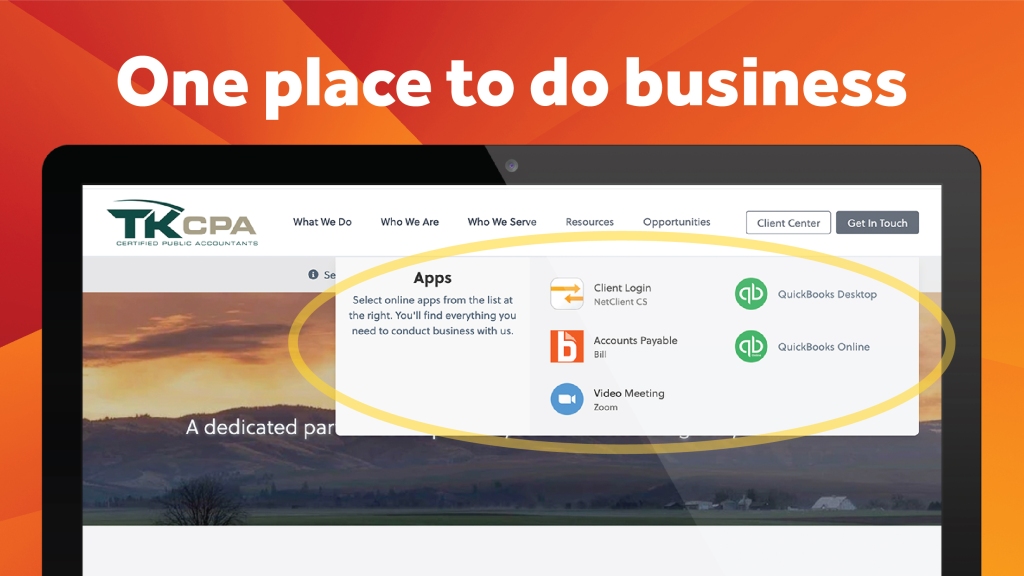 Accounting firm websites should entice clients to return every single day. But how can you accomplish this? By making your website the one place to do business. (Hint: This is the HOW of your business model.)
Create a client center on your website—a single repository with access to all the vendors and applications your firm uses and works with. This includes core accounting systems like QuickBooks® Online or BILL. It also includes video conferencing tools such as Zoom or access to client portals for document sharing.
The client center should be front and center (or maybe to the top right), providing clients with quick and easy access to their apps from any device at any time. Doing this brings your clients back every day to log in and do business with you.
Engage [potential] clients with dynamic content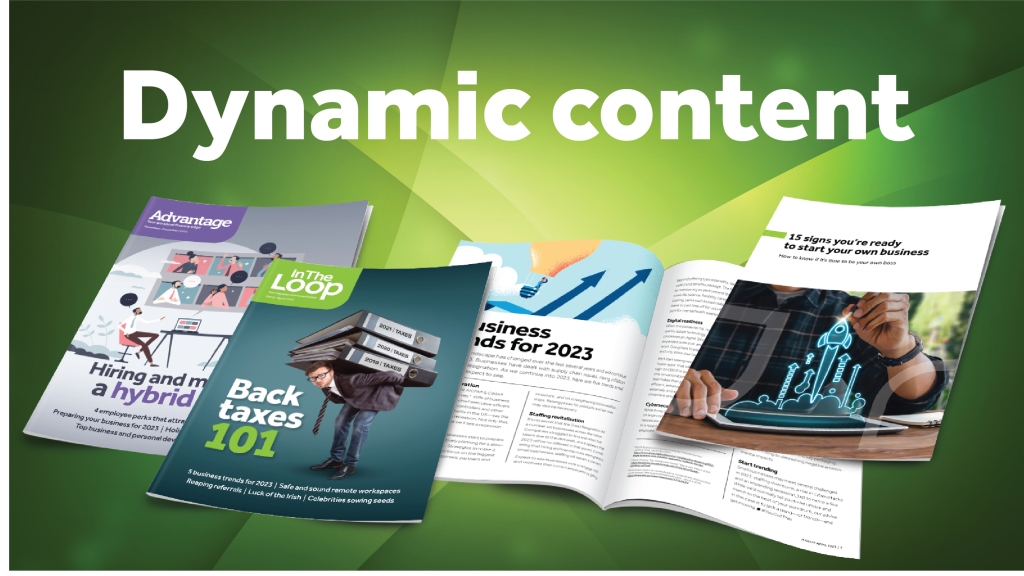 One area where firms need the most help is their digital marketing strategy. Accounting firm websites must have dynamic, high-quality, educational and timely content to help engage potential customers. It's important to remember that content is a representation of your firm's brand. This includes content on your social media posts, in emails or newsletters, or even on your firm's blog. (Hint: If you don't have a blog, you'll want to start one, and we can help with that.)
Your online marketing goals should include driving more traffic to your website for lead generation. We know that "online marketing" can sound a little intimidating to accountants. After all, you're experts in the accounting profession, so creating content may not be your forte. The good news is that it doesn't have to be.
At Rootworks, we provide a content package to our members that includes informative, agency-quality communication pieces on relevant business-related topics—including eBooks, articles and client magazines. All topics are education-based and are written by industry experts. (Spoiler: The firm gets all the credit!)
We push this content out automatically every other month to Rootworks websites. (Yes, we can handle your website, too.) Since the content is educational, the firm becomes the go-to for relevant topics. This keeps clients—and potential clients—coming back time and time again.
And for those of you who want to up your marketing game a level (or three), we invite you to check out our Marketing Solutions services, where a dedicated marketing and social media expert handles your firm's entire marketing program for you. You get to concentrate on what you do best, and our team handles the rest.
Use your accounting firm's website to drive revenue
Would you say your firm's front door (i.e., website) is fresh and inviting? Or do onlookers take one look and run to the next one?
Your website doesn't have to be static and boring. Encourage potential clients to click around by showing exactly WHO you serve, WHAT services you offer and HOW you deliver those products.
Come see how our Rootworks websites create an inviting atmosphere, and stick around for the insights that will help you drive revenue.
Knock, knock! Who's that? It's your newest prospect…entering your website, seeing what they like and staying a while.
Recommended next
Get to year-round revenue: Optimize your services using data-driven insights