Like a big, extended family reunion—that was the scene at the Sarasota Ritz-Carlton November 29–December 1, as the annual Rootworks Inspire Conference 2022 returned from two years in cyberspace. More than 300 members gathered with Rootworks staff and vendor sponsors in the event's first in-person staging since 2019.  
The drought of face-to-face interaction during the pandemic set the stage for a joyful reunion with friends in the familiar setting. Attendees spent hours reconnecting with one another on the Ritz-Carlton lawn during the opening reception.
We're back!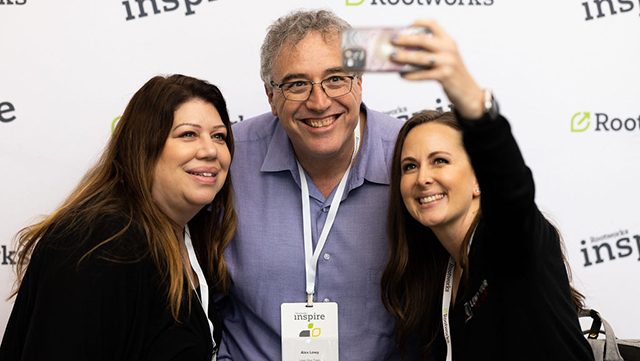 Anticipation mounted over breakfast in the Plaza Ballroom the next morning. Then, the lights dimmed, a video intro flashed on the big screens, and popular Rootworks thought leader and Inspire emcee John Mitchell took the stage and made the welcome back official. When he polled the audience to gauge veterans versus first-time attendees, the response was similar—revealing an exciting new class of Rootworks members and Inspire devotees.  
After John's welcome and warm-up, Chief Strategist and Rootworks founder Darren Root took the stage for the opening keynote, "Back to the future you want." His message: After nearly three years of heroic efforts to shepherd clients through the pandemic—including brutal, never-ending tax seasons and bureaucratic labyrinths of loan applications—it's now time for firm owners to shift their focus back to their own businesses and the futures they want to craft for themselves, their staffs and their families. 
I had attended other Rootworks events, but never Inspire. This event was not only informative and inspiring, but also first-class in its facilities, food, swag and events.  I'll definitely attend again in future years. 

—Denise Nelson, Accounting Plus 
More breakout tracks, more content than ever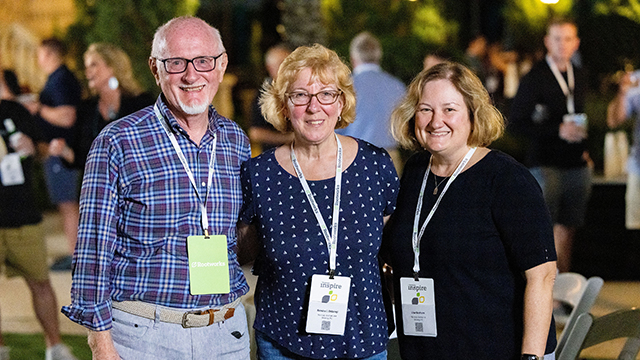 Attendees had more choices to make this year. The three tracks of breakout sessions were built largely around hyper-relevant themes of data, automation, security and firm culture. Presenters included the Rootworks crew, as well as thought leaders Roman Kepczyk, Derek Distin, Brian Sutoff and Gene Marks. 
Of particular interest among attendees was a succession planning session presented by Allan Koltin, CEO of Chicago-based Koltin Consulting Group and a perennial name on Accounting Today's annual "100 Most Influential People in Accounting" list. Koltin's session was timely and much anticipated, given that a significant number of Rootworks members have spent years augmenting their firms' worth and are entering into the home stretch of successful careers.  
I truly felt inspired to change the way I do business. This was the first in-person event our firm has attended. Meeting other like-minded owners really makes you feel like you aren't alone out there. I made some real connections that will be helpful in the future. 

— Gwen Hodges, James A Lucas and Company, LLP 
Indeed, 75% of practicing CPAs are expected to retire within the next 15 years. The resulting change in the complexion of the profession has also stoked interest in firm culture sessions presented by John Mitchell. These sessions focused on remaking modern accounting firms with an eye on attracting the next generation of practitioners and entrepreneurs.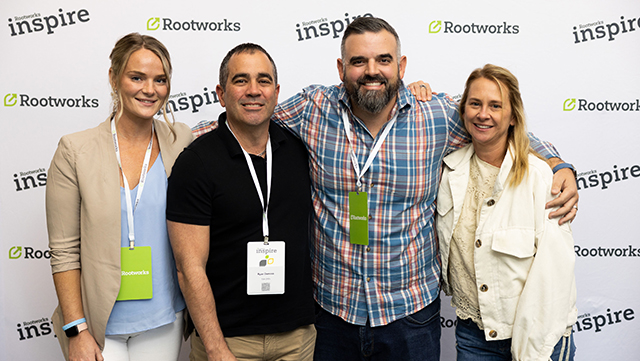 Day two began with lots of smiles and storytelling about the afterparty the night before. The entire Inspire event took over the Gator Club in downtown Sarasota. We had a night of high spirits, socializing and dancing. An opening keynote with panelists launched the day's agenda, which ran through mid-afternoon. We capped off the day with an inspirational closing message by John Mitchell. 
More events in 2023
Inspire's long-awaited return gave attendees a wealth of takeaways. And it set the stage for a schedule of in-person Rootworks events planned for 2023.  
First up: the inaugural live Empower conference. This will take place May 1-3, 2023, at the Gaylord Rocky Mountain Resort in Denver. Smaller scale Firm Retreats are also on the calendar for the summer. We will head to Atlanta, Denver and the Rootworks home base of Bloomington, Indiana. And Inspire will return to Sarasota November 28–30, 2023. 
Watch for early registration announcements and make Rootworks events part of your plan for making 2023 your best year ever, as the entire profession gets back to the future we want.

***
You can relive your favorite Inspire conference 2022 moments in this video recap! Don't forget to share your favorite Inspire moments on social and tag #RWInspire2022 in your posts.