Do you know how to use ChatGPT at your accounting firm? Do you think it's worth using at all?
Take a look at this email introducing an accounting firm to a prospective client:
Sample email from ChatGPT
Subject: Greetings and Introduction from [Your Accounting Firm's Name] 
Dear [Client's Name], 
I hope this email finds you in good health and high spirits. My name is [Your Name], and I am writing to you on behalf of [Your Accounting Firm's Name]. I am thrilled to have this opportunity to introduce our firm and express our interest in working with you. 
At [Your Accounting Firm's Name], we specialize in providing comprehensive accounting and financial services to businesses of all sizes. With our team of highly skilled professionals and years of industry experience, we have built a solid reputation for delivering accurate and reliable financial solutions tailored to meet our clients' specific needs. 
Our firm offers a wide range of services, including but not limited to: 
Bookkeeping and Financial Statements Preparation: We ensure your financial records are well-organized, accurate, and compliant, providing you with valuable insights into your company's financial health. 
Tax Planning and Compliance: Our team stays up-to-date with the latest tax laws and regulations to help you optimize your tax strategy, minimize your tax liabilities, and ensure compliance with all necessary requirements. 
Business Advisory and Consulting: We go beyond traditional accounting services by offering personalized advice and guidance to help you make informed business decisions and achieve sustainable growth. 
Audit and Assurance: Our auditing professionals perform thorough and independent audits, providing you with assurance on the accuracy and reliability of your financial statements. 
Financial Analysis and Reporting: We analyze your financial data to identify trends, opportunities, and potential areas for improvement. Our detailed reports help you make strategic decisions based on solid financial insights.
We pride ourselves on building strong relationships with our clients, based on trust, integrity, and open communication. Our team takes the time to understand your unique goals and challenges, enabling us to provide customized solutions that drive your success. 
If you are interested in discussing how [Your Accounting Firm's Name] can support your financial needs, I would be delighted to arrange a meeting at your convenience. Please let me know a suitable time and method of communication, and I will be happy to accommodate your schedule. 
Thank you for considering [Your Accounting Firm's Name] as your trusted accounting partner. We look forward to the opportunity to work with you and contribute to your continued success. 
Warm regards, 
[Your Name] [Your Position] [Your Accounting Firm's Name] [Your Contact Information] 
Observations about this email
Would you send that email or one like it? If you would, you should be using ChatGPT. The artificial intelligence (AI) chatbot produced that letter in about 15 seconds based on the prompt, "Write an introductory email to a client from an accounting firm." That's it. After that, it was copy and paste.
Of course, the chatbot has its limitations, and using it carelessly can actually be risky. But for some basic communications and for getting more complex ideas off the ground, it can be a useful tool if you know how to use ChatGPT at your accounting firm.
How to use ChatGPT at your accounting firm…safely
First, some caution is in order. You need to know how to use ChatGPT at your accounting firm while avoiding the potential pitfalls of this new technology.
ChatGPT does not validate information. It simply analyzes items it was trained on, which date through November 2021, and brings back what it finds. The source could be The New York Times or The (famously satirical and very factually inaccurate) Onion—or anything in between. There's no way to know.
And that can be dangerous. Consider the now infamous case of a lawyer who used ChatGPT to submit a series of court decisions as part of a lawsuit. The decisions—at least six of them—had names, quotations and summaries. But not a single one of them was real. ChatGPT had created all of them virtually from thin air.
ChatGPT doesn't keep secrets
A college professor recently had a similar experience when one of her students turned in an essay quoting a book. Unfortunately for the student, the quotes weren't real. They dealt with topics similar to those in the book and sounded like something that could have come from the book. But they didn't come from the book. So, you really need to verify everything that ChatGPT produces.
Then, there's the issue of intellectual property. ChatGPT isn't private. If you type something into ChatGPT, you're effectively releasing it to the entire internet, as engineers at a big electronics firm discovered while quality-checking some code using the AI chatbot. (The company has since blocked engineers from using ChatGPT to check code.) Warning: Don't ever type anything into ChatGPT you wouldn't release to the world at large. 
Use ChatGPT to explain complex accounting concepts
Even with its drawbacks, ChatGPT can prove useful for accountants. The email above is one example. In a matter of seconds, you have a professional communication you can easily customize for your firm.
And there's more that ChatGPT can do for you. For example, what do you do when a client asks a question about a tax or accounting term that's not easy to explain? Instead of stewing about how to break down a complex idea into an answer a non-expert can understand, you can try ChatGPT.
ChatGPT tackles an obscure tax concept
Here's a partial explanation the AI bot created for escheatment, a concept likely unfamiliar to most people who aren't tax professionals (and maybe some who are):
Escheatment is a legal process by which unclaimed property or assets are transferred to the state government when the rightful owner cannot be identified or located. The term "escheat" comes from the French word "escheoir," meaning "to fall to." 
The escheatment process typically applies to various types of assets, including financial accounts, uncashed checks, stocks, bonds, dividends, insurance policies, and even real estate properties. When an individual or organization holds property that belongs to someone else but remains unclaimed for an extended period, escheat laws authorize the state to take custody and ownership of those assets. 
Not bad! The explanation goes on for several more paragraphs, but the two opening paragraphs provide a good overview of the concept. And escheatment as a concept isn't specific enough that ChatGPT is likely to introduce gross inaccuracies into an explanation of it. The query that launched this explanation was simply "explain escheatment," and ChatGPT responded within 10 seconds.
ChatGPT can write employment ads for your firm
Chances are, like most firms, you're constantly looking for new employees. When you delve into how to use ChatGPT at your accounting firm, you'll find the chatbot can help in this area. If you don't already have a template for career opportunities/want ads, consider this partial response from ChatGPT to the query, "Write an ad for an entry-level accountant at an accounting firm."
As an entry-level accountant, you will have the opportunity to work alongside experienced professionals in a collaborative and dynamic setting. You will gain hands-on experience in various areas of accounting, including bookkeeping, tax preparation, financial analysis, and more. This role is designed to provide you with a solid foundation in accounting principles and practices while allowing you to grow and expand your skills. 
Responsibilities: 
Assisting in the preparation of financial statements, reports, and tax returns. 
Conducting basic bookkeeping tasks and maintaining accurate financial records. 
Assisting with data entry and analysis to support financial decision-making. 
Collaborating with senior accountants to provide client support and resolve accounting issues. 
Keeping up-to-date with accounting regulations and best practices. 
Qualifications: 
A bachelor's degree in accounting, finance, or a related field. 
Strong analytical and problem-solving skills. 
Proficiency in Microsoft Excel and other accounting software. 
Excellent attention to detail and organizational abilities. 
Effective communication and teamwork skills. 
ChatGPT even goes on to fill in all the standard equal-employment language found in basically every advertisement for a job. Of course, you would want to tailor this listing to your firm's individual specifications, but ChatGPT produced a very useful base employment ad in about five seconds.
That's really what ChatGPT does best. It gives you a quick, useful and generally very thorough base for creating whatever it is you need to write. If you tend to stare at a blank screen when starting to write just about anything, ChatGPT can fill the screen for you. From there, validating and tailoring information is up to you. But the time savings can be significant.
How to use ChatGPT in your accounting firm to communicate with clients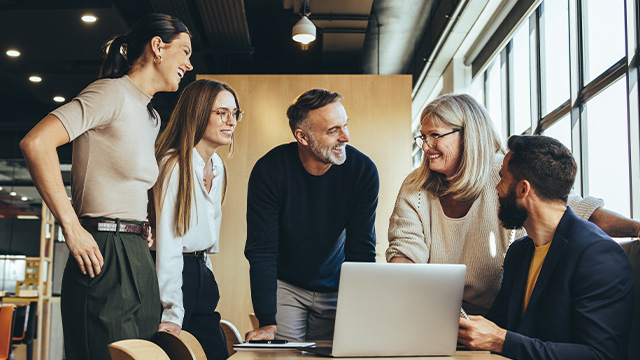 The best way to communicate with clients is in the cloud, mostly likely via a secure portal. Running business and tax applications securely in the cloud is the biggest time and money saver you can implement for your firm. Once you're communicating in the cloud, ChatGPT can help you save more time.
Let's say, just as an example, that a client forgets to sign a Form 1040. ChatGPT took the query, "Write an email to a client from an accounting firm asking a client to sign a form 1040" and produced a full email in about 10 seconds. It opens with polite, if a bit formal, language you would likely use in your client communications.
I hope this email finds you well. As the tax filing deadline approaches, we kindly request your attention and cooperation in signing your Form 1040, the individual income tax return. This signature is crucial to complete the filing process accurately and on time. 
Form 1040 serves as the primary document for reporting your personal income, deductions, and credits. By signing this form, you confirm that the information provided is true and accurate to the best of your knowledge. As your trusted accounting firm, we are here to guide you through the process and ensure compliance with all tax regulations. 
ChatGPT might think of things you don't
ChatGPT even goes on, although not specifically prompted, to offer instructions for signing the document electronically:
To electronically sign the document, please follow the instructions below: 
Open the attached Form 1040. 
Scroll to the end of the form, where the signature field is located. 
Click on the signature field, and a pop-up box will appear. 
Select the option to sign electronically. 
Follow the on-screen instructions to provide your electronic signature. 
Once you have signed the form, save it to your computer. 
Again, you'll want to customize the email to your firm's and client's specific needs. But ChatGPT does most of the work for you in a matter of seconds.
One more thing to keep in mind as you use ChatGPT: If your firm already has a style or content guide in place, you'll need to review anything ChatGPT creates to be sure its copy matches your guidelines.
ChatGPT isn't perfect by any means, but it can still do the heavy lifting of writing for some accountants. As long as you know how to use ChatGPT at your accounting firm, the AI chatbot can make your work life easier and more productive.
The best way to save time and money is to run your applications in the cloud. Get started today.
Recommended next
Why You Shouldn't Fear Artificial Intelligence in Accounting