When you emerge from the throes of busy season, what better way to celebrate than by attending Empower 2023?
In early May, more than 300 attendees—firm owners, staff, the Rootworks team and several vendors—did just that. And in the picturesque Colorado Rockies no less. The Empower 2023 agenda was full of elevating keynote presentations, energizing networking events, information-packed educational breakouts and…most important? A working session with our coaches to help firms create a strategic action plan.
We kicked off Empower 2023 with an evening of drinks, laughter, networking and a few rounds of competitive cornhole at our welcome reception. The anticipation rose as the sun set behind the Rocky Mountains, signaling the end of day one.
Cutting through the chaos at Empower 2023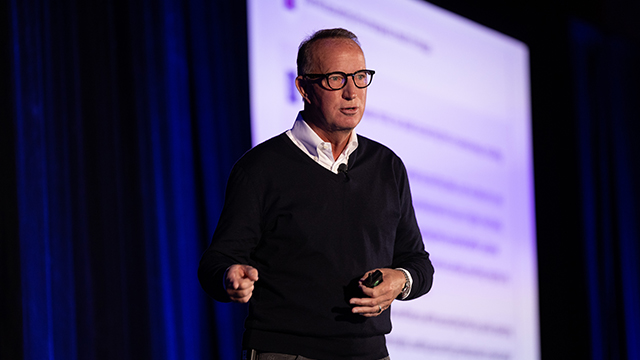 On day two of Empower 2023, Darren Root, Rootworks founder and Chief Strategist for Right Networks, opened the conference with his keynote presentation, "Cutting through the chaos." His main message? With more noise than ever in the accounting profession, it's become chaotic—and to be successful, you have to cut through that chaos.
Hence the goal of Empower: To help firms cut through the chaos and walk away with an action plan to keep attendees accountable as they work toward building the firm of their dreams.
Presenting the best content ever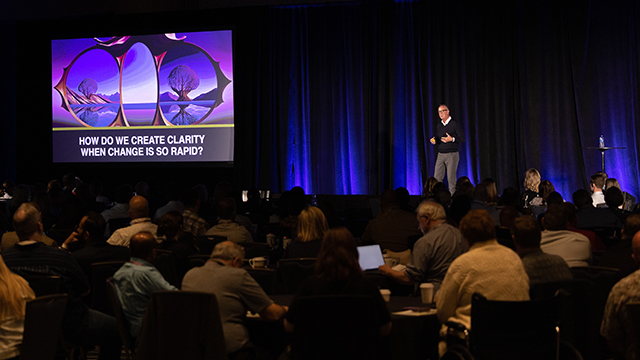 After polling attendees, we're proud to say that Empower 2023 boasted some of our best content ever. From learning what you can do now to make the 2024 tax season rock and moving your firm to the cloud, from navigating the AI (artificial intelligence) revolution to building a DEI action plan…
Our sessions were intentionally built around what we call our four smart pillars:
Smart Firm Management. Get a comprehensive overview of best practices and insights to help you make smart, informed decisions that drive your business forward (i.e., your firm's who, what and how).
Smart Client Management. Develop a clear understanding of your ideal clients, identify lucrative new revenue opportunities and retain your best employees.
Smart Security Management. Find out how a move to the cloud can enhance security as well as efficiency on a large scale.
Smart Team Management. Maintain a culture of inclusion, equity and diversity that entices new and existing employees to join your organization.
Our most talked about session was Navigating the AI revolution: Leveraging generative AI within your accounting practice. We discussed the practical ways AI can help firms streamline their processes and save valuable time. (Spoiler: You can tap into AI to write your client termination letters for non-ideal clients.)
Rootworks invited Jina Etienne, CPA, CGMA, CDE®, and CEO of Etienne Consulting LLC, to speak on the importance of a DEI mindset within the profession. She helped attendees see what actions they could take—along with common misconceptions—to create an environment of inclusiveness.
John Mitchell, Staffing and Culture Expert for Right Networks, graced the stage with his closing keynote, "Crazy busy." His message? Being "crazy busy" is an old badge of honor—one that's falling to the wayside as firms strive to achieve work-life balance and build a business that supports the lives they want to live.
Creating an action plan
The ultimate goal of Empower 2023 was to help firms create an action plan. Encouraging accountability and making changes can't live on the shoulders of firm owners alone. By including—and delegating to—staff members, the dream of a modern firm can become a reality. 
We wanted attendees to head back to the office with a strategic plan they could implement immediately. So, on the final day of Empower, we hosted a workshop for all attendees. During this hour-long working session, Rootworks coaches assisted firms with strategy and organization, helping them set smart goals and ways to track progress—a practical and tactical action plan they can put into place to ensure a solid finish to 2023. 
Continue the empowerment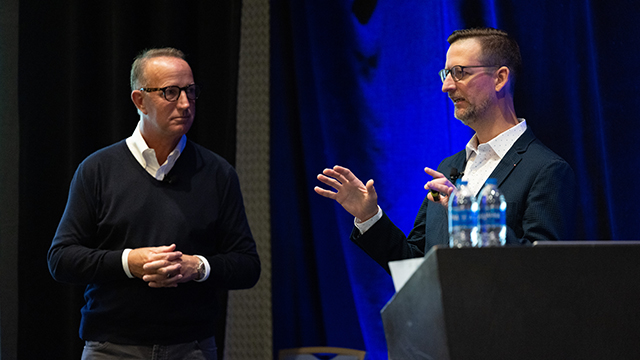 Empower 2023 helped firms implement the strategies they learned to mold an action plan to improve their business. And it set the stage for The Modern Firm® Retreat. 
This two-day retreat will take place at the Rootworks headquarters in Bloomington, Indiana this summer. And it will offer a more intimate, workshop-style setting that gives firms practical and actionable steps to achieve a modern firm. You'll walk away with actionable insights, along with strategies and tools to streamline operations, increase firm productivity, enhance the client experience…and a whole lot more.
Register for The Modern Firm Retreat in a city near you!
And don't forget to share your favorite Empower moments on social and tag #RWEmpower in your posts.
Recommended next