Recent trends in accounting show WFH uncertainty
It's the topic of the moment; the most recent trend of accounting (among every other office worker)—
The accounting blog surveyors are surveying; the data is pouring in. Leaders are beginning to make decisions about whether or not they will allow employees to choose their own schedules or continue to work from home.
And while the recent uptick in COVID cases has somewhat put the decision-making on the back burner, the question remains: What happens when that official return-back-to-the-office mandate comes?
"Companies should be prepared for a potential disconnect between their ideal work structures and that of their employees."
David King, Canadian Senior District President, Robert Half
In this blog post, I'm diving into the recent trends in accounting statistics, specifically:
How do employees feel about returning to work?
What would make the transition back to the office easier?
Why are accounting leaders hesitant about continued WFH?
Let's get started.
Employees feelings on remote work, office life
27% don't miss anything about working in an office.
WalletHub asked employees, "What do you miss the most about office life?" 27% responded: "Nothing at all." (Aw.)
Well shoot! Let's wrap up the blog post and end there!
Obviously it's not quite that simple. But, if more than a quarter of employees (albeit from a sample size of 300) are stating that they don't miss anything about working in an office…what happens when they are required to go back to the office?
Maybe they'll…quit?
33% of employees will quit if unable to work from home.¹
Would you take a pay decrease to stay remote?
A recent survey by Breeze/Pollfish asked this question to a group of 1,000 people who were either "employed or looking for work at a job that can be completed entirely remotely."
Employees are willing to take a 5% pay cut to stay home. 15% are willing to cut it by 25%.²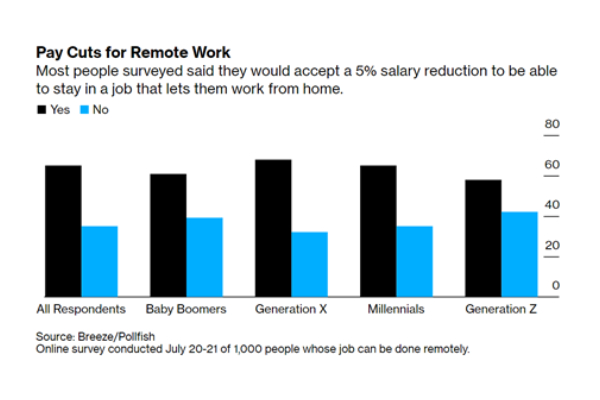 Okay, fine. I'll work in the office. Just make the office exactly like my house.
A Returning to the Office study conducted by Robert Half showed that 51% of surveyed employees stated that they would prefer to "divide time between the office and another location."
This hybrid setup seems to be the most likely outcome. Though, when asked what would help ease the transition back to the office (regardless of # of days spent in that office location per week) you can't help but notice the similarities to the pros of working from home.
Here's what professionals stated would help ease the transition back to office life:
Freedom to set preferred hours
Employer-paid commuter costs
A personal, distraction-free workspace
Relaxed dress code
Employer-provided childcare
And here's what I immediately gained when Right Networks turned fully remote:
Flexible hours
No commute
My own office
Relaxed dress code (what even is a dress shirt?)
No childcare needed (I'll take cat care though, sure.)
100% of an accountant's job can be done remotely. ³
When talking about the functional accounting tasks—yes, 100% of them can be done from home.
However, new technology has made it easier for accounting professionals to move away from those repetitive, compliance-driven tasks, and spend more time honing their advisory roles.
And we know: Advisors need to earn clients' trust; it takes time to build a trusted advisor/advisee relationship.
Relationship-forming and building are made harder when communicating 100% virtually—but wait:
Who said anything about communicating 100% virtually?
As long as it's safe to travel, travel. Remote access setups have made working from anywhere much easier and more secure.
When you think about it, growing your advisory business may actually be easier with the freedom and flexibility to work anywhere. You may even be closer to clients' offices working from home than you are when you are at your firm.
And with the right tools in place and a secure remote access setup, you could pick up and go to where your services are needed most.
Leaders still calling WFH a "recent trend in accounting"
"In a recent survey of close to 500 managers, executives and senior leadership in banking, financial planning, FinTech, financial services, accounting and other related industries, leaders at accounting firms were far more likely to be working full-time at their firms' offices."
This quote, taken from The Future of Work survey, asked managers, executives and senior leadership (you know, the people who determine whether or not their staff is required in the office) these two questions:
How will your employees work one year from now?
Are you planning on keeping your current office footprint?
Compared to other industries, the results indicated that accounting leaders aren't as ready to jump aboard the work-from-home train.
Accounting blog notes that leaders are expecting 53% of their staff will be back at the office full-time by April 2022.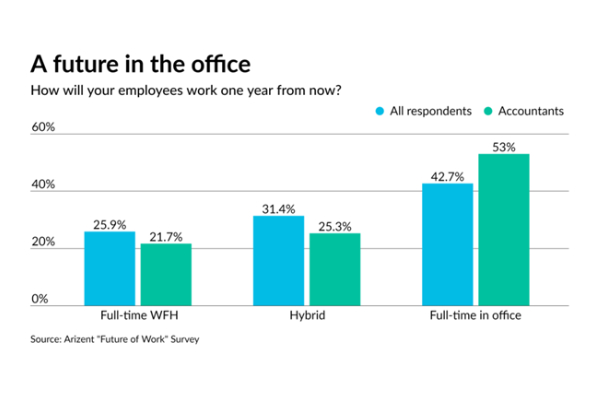 Accountants are far more likely to return to brick-and-mortar offices than other businesses.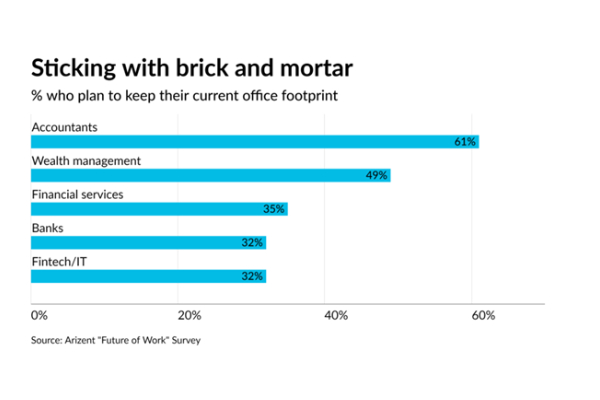 That same Accounting Today survey dug deeper, asking: What are the most important uses for your offices?
Meeting with clients and watching employee performance were their top two responses (the majority cited productivity as a concern.)
We talked about meeting with clients earlier—but if you didn't catch that paragraph…
TL;DR: The lack of an office does not determine your ability to meet with clients.
Productivity concerns are valid. At the same time, employers: Why employ anyone who can't be trusted to get their work done?
And employees: Why not use this time (away from the office) to show you are trustworthy and efficient?
About this recent trend in accounting…
1) It isn't a trend anymore and 2) it isn't just accounting.
All leaders must face the reality that the remote work cat is out of the bag.
And though opinions about the WFH frequency at the employee and employer level differ, it's clear that people (at the very least) want the flexibility to decide for themselves.