Cyberattacks Have Been Rising at an Alarming Rate Over the Past Couple of Years
Not only that, but cybercriminals can penetrate 93% of company networks. Is your business susceptible? The answer could be a resounding yes. And, without a proper cybersecurity plan, your business is bound to become a not-so-great statistic.
With many companies shifting their business operations to remote or hybrid environments, it's imperative now more than ever to enhance your cybersecurity to protect your business. But it doesn't stop there.
As a business that handles highly sensitive data belonging to your company—and to your clients—it's your responsibility to implement a rock-solid cybersecurity plan to ensure data security.
In this article, I'll cover five tips to improve the cybersecurity for your business, and it starts with implementing a security policy.
1. Implement a Security Policy
Whether your team is in-office, remote or a hybrid of the two, it's important to create and implement a security policy that will protect your business, your employees and your clients. A policy sets a standard for critical business applications, data security and required network security tools needed to protect from both internal and external cyberthreats.
Implementing a security policy also ensures that your employees stay compliant with company and industry standards, have a point of reference for any security-related questions, and can access guidelines in case of an incident. Below are three must-have policies to include within your company's overall security policy.
Acceptable use policy: The acceptable use policy outlines the acceptable use of computer equipment issued by your company. It should define the difference between appropriate and inappropriate use, the risks involved with improper use and the consequences—including legal ramifications—of unauthorized use.
Remote access policy: This policy is designed to minimize potential cyber risks when employees connect to your company's network outside the office. Be sure to include requirements for VPN (virtual private network) access, the use of a private Wi-Fi connection, up-to-date antivirus protection software and multi-factor authentication (MFA).
Password management policy: Within this policy, define guidelines for creating, changing, and safeguarding strong and secure passwords, including complexity and length requirements, along with enforced password expiration. This policy can also include MFA requirements and define company-approved MFA apps like Duo Mobile. Also, make sure that the consequences for failing to follow the password management policy are specified.
While this list isn't exhaustive, having a security policy that outlines security requirements keeps employees accountable and promotes a work environment focused on minimizing risk. Make sure all employees, whether they're in-office, remote or hybrid, agree to and sign the policy you create.
2. Require Consistent Employee Security Awareness Training
Do you know the biggest cybersecurity threat to your business? You and your staff.
Yes, that's right: Human error accounts for almost 95% of all data breaches. That's a pretty scary statistic.
So, what can you do to mitigate your biggest threat? Implement a security awareness training program that provides ongoing security training, including simulated phishing, vishing and smishing attacks, to keep employees vigilant and prepared to combat any intrusion attempts.
The Right Networks Security Awareness Training program is a fully managed solution that can help lower your business's cybersecurity risk. Features include:
Security training modules: Employees are trained on current and relevant topics including work-from-home safety, phishing, ransomware and password security.
Industry-themed simulated phishing: Staff members receive monthly email phishing campaigns to reinforce training with an expansive library of realistic scenarios to prevent phishing attacks.
Dark web monitoring: Your company is alerted if any of your organization's information has been compromised or stolen.
Consistent training ensures that employees remain attentive and aware of possible attacks against your company. Learning how to spot malicious intent will reduce security threats.
3. Develop a Disaster Recovery Plan
In case a cybercriminal slips through the cracks of your network, it's important to have a disaster recovery plan already in place. This plan should be a documented and structured approach that outlines the steps for how your organization will respond—and how quickly you can get back to business—after a security breach.
A disaster recovery plan should include the following seven elements:
Disaster recovery goals: List the goals your business aims to achieve if a disaster occurs. This should include the recovery time objective (RTO), which is the maximum downtime allowed for each critical application, and the recovery point objective (RPO), which is the maximum amount of acceptable data loss.
People: Define who handles executing the disaster recovery plan and what their responsibilities will entail (e.g., communication, task delegation, reporting, post-disaster analysis).
Assets: Take an inventory of all systems, applications and resources on your network, and confirm who has access to these resources and any associated data. Be sure to determine what is most vulnerable to potential threats and identify the risk impact of each.
Backup procedures: Determine how and where every data resource is backed up and how to recover from a backup. This should also include how often backups occur to maintain data integrity in case of a failure.
Disaster recovery procedures: Include steps on how to respond to emergency situations to limit damages and communicate the situation.
Restoration: Outline steps to restore all systems and resources back to full operation after the breach has been suppressed.
Post-disaster assessment: Develop procedures to figure out how the breach occurred, whether goals were met in relation to RTO and RPO, and how to prevent the same security breach in the future.
Without a disaster recovery plan in place, the chances of successful incident response are extremely low. Don't let your company's data (and your clients' sensitive information) be at risk due to the lack of disaster recovery planning on your part.
4. Partner With Vetted Third-Party Vendors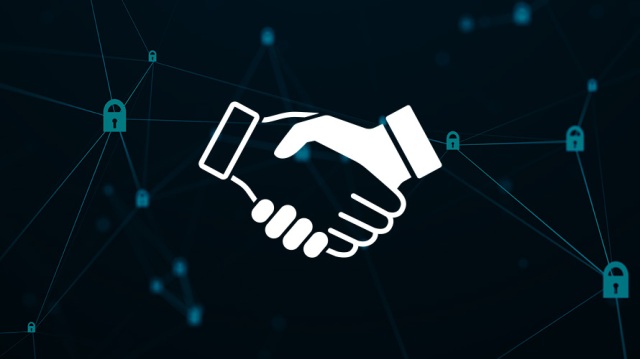 While maintaining your company's security is the most important, another piece of the cybersecurity puzzle is the vendors you work with. Do these companies have security protocols? Do they use data encryption when integrating with applications you use? Do they have documented processes in place in case of a security breach?
Before you partner with a new third-party vendor, review their services and assess whether they're a suitable match for your company, especially if sharing data across platforms. When vetting a potential vendor, create a risk assessment questionnaire that includes the following:
Can they supply industry-specific certification documentation?
What is their disaster recovery plan?
Do they require encryption keys for data flows?
Are assessments performed on the third parties they work with?
Do they require MFA?
Are internal security audits conducted regularly?
Do their servers have secure and redundant backups?
Are there access controls in place?
With your data and your clients' data at stake, it's OK to be selective when choosing to work with a third-party vendor. Remember that when you decide to work with another vendor, the onus of security isn't just on them—it's on you, too. Monitor and conduct your own regular security checks and penetration testing to ensure there's no unauthorized access to sensitive data.
5. Encrypt Your Data
One of the biggest steps your business can take to prevent unauthorized access to sensitive information is to encrypt data. It ensures that only those you intend to see and access the data will be able to read it; unauthorized parties will just see scrambled information.
Start with encrypting physical devices (e.g., laptops, desktops, smartphones, tablets, removable drives) using file encryption and/or full-disk encryption (FDE). (FDE is highly recommended as it encrypts the entire disk instead of individual files.) This encrypts everything on a device and makes data accessible only with an encryption key. If a device is stolen, encryption works to dramatically reduce the chances of a thief getting their hands on sensitive data.
Next, make sure that any cloud storage being utilized is also encrypted, employees access only secure websites (look for HTTPS and not HTTP in the URL), and that all network and internet connections use end-to-end or VPN encryption.
Enforcing encryption can be a headache for businesses, so it's best to partner with a company that offers all these capabilities, like Right Networks with its Secure Workstation. It's a fully managed solution that ensures your organization's computers are protected from cyberattacks using antivirus threat protection, automated file and folder backups, drive encryption, and security monitoring using artificial intelligence.
Bolster Your Defense
Cybersecurity should be top of mind for any business—large or small. And it's up to you to make sure your data (and your clients' data) is safeguarded from cyberattacks. Take the time now to up your cybersecurity game before it's "game over."
For more information on bolstering your line of defense against cyber predators, check out the Right Networks Cybersecurity Solutions.
Recommended next