Firms Don't Often See Disasters Coming
What would happen to your business operations if the power went out? Would you be able to move elsewhere and continue to run your firm from any location? Or, would you need to stop working because you didn't have any full backups or copies of your data? Do you have a disaster recovery plan?
This scenario isn't so far-fetched as we approach the stormiest months of winter.  
Suffice it to say: Disasters are unpredictable and wreak havoc. (It's in the name.) For firms without crystal balls (and this is all of them), it's imperative that they take measures to prevent data loss if and when a disaster occurs.  
In this blog post, we're going to discuss: 
How data loss can destroy a firm

 

Why businesses without a data backup plan and recovery strategy often don't survive data loss

 

When data-loss catastrophes go beyond data breaches and natural disasters

 

What you can do to protect critical data

 
How Data Loss Can Destroy a Firm
How can data loss destroy a firm? Well, there are two answers to that question. One is the financial loss—outages can cost businesses $1,467 per minute or $88,000 per hour. (Veeam, 2022)—but arguably more important, there's the reputational hit that data loss leaves on a firm.  
Think about how you would feel if your bank called you and shared that they weren't sure if they'd be able to recover your financial information. Or worse, if they couldn't even make that call because they had lost your information and you only found out from a blanket statement made to a news outlet. 
You'd be devastated, understandably confused and possibly irate. Here you are, trusting your private financial information to a business, and they don't have the proper equipment to safeguard it?  
It's not that much of a stretch to think about that scenario happening at your firm. How much money would you lose if you lost your customer data—even for a day? Upwards of $700,000 in a single workday and even more when clients hear that their data was almost lost forever because you weren't protected by any disaster recovery process. 
Businesses Without a Data Backup Strategy Often Don't Survive Data Loss
"Businesses without a data backup strategy often don't survive data loss" may read like a fearmongering stretch of a statement…but it's far from it. 
Just look at these statistics of businesses that suffered outages in recent years: 
93% of companies that experienced a data center outage for 10 days or more had to file for bankruptcy within one year of the disaster. (National Archives & Records Administration in Washington)

 

94% of companies that suffered a data loss did not survive. (University of Texas)

 

30% of all businesses that suffer a major fire go out of business within a year; 70% fail within five years. (Home Office Computing Magazine)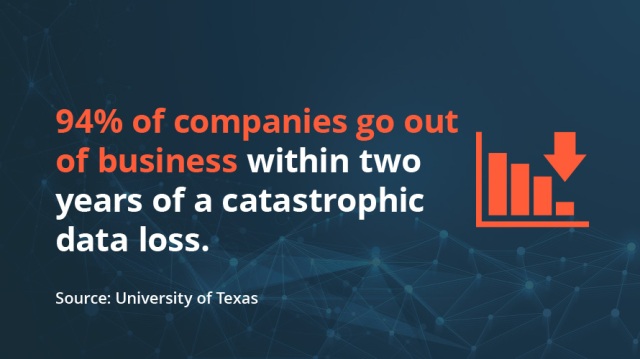 If you're thinking to yourself, "Data-loss catastrophes are rare and probably won't happen to me," think again. Events leading to data loss go beyond what you would expect; keep reading to find out more. 
Data-Loss Catastrophes Go Beyond Data Breaches and Natural Disasters
It's true: Data breaches and natural disasters are some of the leading causes of data loss. But these days—we hope—many companies have plans in place to at least prevent data breaches…or mitigate irreparable damage caused by a data breach. (If you're questioning whether your firm has proper measures in place, check out this eBook to find out.) 
Besides the obvious, what are other ways you can lose data? 
Rogue savers:

"Rogue savers" are employees who save files outside of the predetermined workflow. For example, you save a file to the hard drive instead of to the cloud. Then, the hard drive fails. Hard drives fail for all sorts of reasons without warning. And after failure, you lose everything on that hard drive forever.

 

Accidents:

We've all done it. The "fat finger" accidental deletion. With one clumsy index-finger punch, a file you need is lost. And without proper backup software, it's gone forever. 

 

Electrical failures:

Sometimes, power outages and surges just happen—not because of a storm or flood, but due to some unknown electrical failure. In those instances, computer and server data can be obliterated in an instant.

 
Why a Cloud Data Backup Plan Is the Best Disaster Recovery Strategy
What is the best way to prevent data loss? Have a data backup plan in place. That way—from accidental deletion to hurricane floods—you don't have to worry about data being lost forever.  
Roman Kepcyzk, CPA, security expert and Director of Firm Technology Strategy for Right Networks, advocates for a 3-2-1 backup strategy.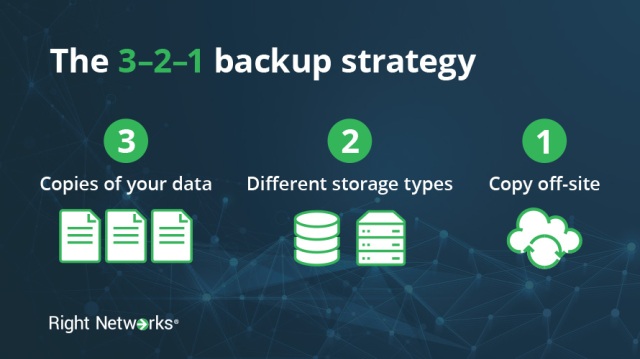 And as a part of that 3-2-1 backup strategy, Roman recommends using cloud technology not only as one of the two backup storage types, but also where one of the copies should be stored offsite. 
Why cloud technology? In short: Cloud storage prevents data loss by storing it offsite in multiple places.  
As an example, Right Networks' cloud hosting services use several data safety measures to prevent irreversible data loss. If your data is lost or accidentally deleted, Right Networks can recover it because our cloud technology:  
Stores data in multiple Tier 4 data centers in geographically diverse US locations.

 

Replicates data in real-time and backs it up nightly.

 

Retains data on a rolling, 90-day backup schedule.

 
Don't wait for an accident to make you wish you had thought about a backup solution sooner.  
Download our disaster recovery plan to back up data eBook to learn more about safeguarding your firm's critical data today. 
Recommended Next