Your Accounting Firm and Its Relationship with eWaste
There isn't a contemporary office or accounting firm that doesn't make use of a wide variety of electronics. From computers to laptops, from fax machines to printers, all have become indispensable in the modern era.
The problem is that these items, also known as EEE (Electrical and Electronic Equipment), grow outdated far more quickly than they used to. Upgrades and replacements happen so rapidly nowadays that it sometimes becomes difficult to keep up with trends in this area. Sadly, one of the things e-manufacturers failed to consider when upgrading their products is what to do with the eWaste that is eventually generated.
How do we, as a society, properly dispose of old electronics once they have expired or moved well beyond their best use date?
The unfortunate lack of movement in this realm has led to a catastrophic environmental issue that needs to be resolved before it grows out of control.
Most Electronic Devices Have a Shelf Life
When you buy electronic items like computers, laptops, printers—or heck, even a tiny refrigerator or microwave for your business—you try to buy equipment that can endure the wear and tear of office use.
For this reason, the last thing on your mind when you remove a new laptop from the box is what to do with it after it has aged.
Why Every Firm Should Ask, "What is eWaste?"
When someone tosses a plastic bottle into the ocean, it joins legions of other bottles, creating a toxic environment for sea creatures and humans alike. The eWaste phenomenon is remarkably similar; in fact, the negative impact on the environment is not in dispute.
The eye-opening 2020 United Global E-Waste report revealed that a record 53.6 million metric tons of e-waste were generated in 2019. Despite this, far too few of us are asking the all-important question of what to do with the very electronics that we have come to rely on.
Why is it Hard to Find E-recycling Near Me?
As stated previously, 53.6 million tons of eWaste have been generated. Unfortunately, only 17.4% of eWaste has been collected and properly disposed of. The need to recycle eWaste is incredibly important, however. And because the term eWaste is still relatively unused and barely uttered inside modern offices, little is being done to address this alarming trend.
The general public doesn't quite seem to understand that the waste generated by electric and electronic equipment is affecting community health and the environment.
Even though electronic waste disposal has not received the mainstream coverage modern glass and plastic recycling has, there are things your firm can do to recycle eWaste and bring it into public consciousness.
Why Should Your Accounting Firm Care?
There has been a 21% increase in electronic waste over the past five years, and it's expected to double in 16 years.
Leading the charge in eWaste disposal can aid a niche or member firm in ESG (Environmental, Social, and Governance) performance and inspire consumer respect. Actions in this regard may also have the positive effect of attracting environmentally conscious clients and employees
Most electronic devices are improperly disposed of in landfills, dumped in the ocean or burned. This is largely because eWaste recycling is new to the climate change sphere.
By becoming conscious of eWaste disposal, you can reduce our carbon footprint on this planet, which in turn may inspire eWaste disposal efficiency locally—and in time, internationally.
Improper disposal releases toxic chemicals like lead and mercury. These poisons leech into the water supply, soil and inevitably, into the food supply.
By paying due attention to proper eWaste disposal, you will not have to struggle to answer the question "Where can I find eWaste recycling near me?" in the future.
Is an ESG Service Offering Program the Answer for Your Accounting Firm?
While many accounting firms concentrate on their advisory services or the protection of their client's personal information—and rightfully so—there needs to be a comprehensive mechanism in place to deal with the eWaste their company produces.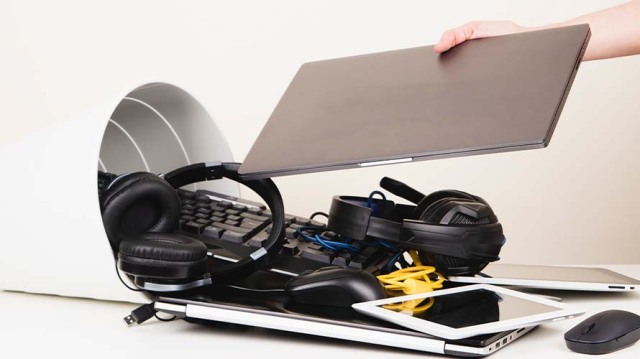 One way to do that is to investigate the potential of an ESG service offering or program.
So, what is ESG exactly?
According to Investopedia, ESG is "a set of standards for a company's behavior used by socially conscious investors to screen potential investments." This environmental criterion often explores ways a company can safeguard the environment. Such safeguards may include policies that address things like climate change, ethical treatment of animals, etc.
Installing a fully comprehensive program would be daunting for a small-to-medium business, but your accounting firm could promote ESG awareness. One of the best ways to do this would be to provide staff training on how to identify electronics in need of disposal and enact a process to remove outdated equipment.
Ways Your Accounting Firm Can Reduce eWaste
ESG standards are often measured via the Global Reporting Initiative (GRI), which is used by investors. The GRI covers a wide range of governance standards which include everything from biodiversity to recycling and climate-friendly programs.
These may include, but are not limited to:
Using natural resources efficiently and consistently.
Donating older equipment, preferably to charities that may not be able to afford the equipment.
Implementing environmentally sound waste management.
Preventing and reducing waste through reuse and recycling.
Reporting to governing bodies like EPA's WasteWise annually.
When your accounting firm enacts these types of reporting and company practices, you aid consistent business compliance when it comes to eWaste disposal and reduction.
eWaste Recycling Near me—What to Do Next
Once your accounting firm begins to study the impact of eWaste on our environment and enacts a policy to combat its effects, the next step is to locate the type of facilities that can remove your old equipment safely.
As things stand today, that's no easy feat.
A more immediate plan of action to consider is the reduction of your firm's reliance on certain types of electronics and devices. For instance, a cloud-based business solution, like the one found at Right Networks, can introduce automation to your accounting firm. Cloud-based automation reduces the need for physical products and helps your organization reduce paper waste.
In other words, sustainability is achieved through a process called dematerialization, the process by which you can replace physical equipment with virtual or streaming services.
Cloud-based Solutions Make Sense for a Socially Conscious Accounting Firm
When you migrate to the cloud, you use fewer machines and in turn, reduce energy consumption as well.
By making public health and the environment important to your accounting firm, you will not only provide financial services, but you'll also positively affect your local communities—which may realize the need for e-recycling facilities in their own neighborhoods.
Contact Right Nightworks for further information on how your accounting firm can utilize cloud-based services and make strides towards eliminating eWaste, today.
Recommended next