It's finally here. THE season…the holiday season. Joy. Peace. Love. Bring it all on, because if you're like me, I'm more than ready for it. As is my dog child, Chewie. In fact, she's the inspiration for this blog post. And it all started with a single text exchange.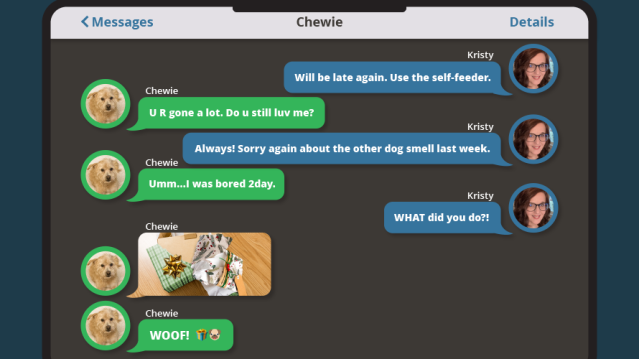 In case you're wondering, Chewie did not get in trouble. We rewrapped the gifts and moved on. Plus, I totally get it. Her only goal in life is to shower me with love and dog kisses. So, what's a dog mom to do? 
Slowing down (both professionally and personally) isn't an option right now, but I can do more to keep her happy and occupied when I'm not around. Or during the times I'm glued to my computer screen and blatantly ignoring her (her words…not mine). 
So, what did I do? Well, I did a little research to identify a few cool dog gadgets, gizmos and go-to toys to help entertain my pup and reduce the missing-her-human factor. And now I want to share my list with all you other dog moms and dads as you think about what to get your best friend this holiday season. With all they give us, it's the least we can do for them. And, after all, it is the season of giving. 
Most dogs I know absolutely love their squeaky toys. Of course, if you work from home full-time or even on occasion, the constant squeak-edy-squinks can get old fast…really fast. So, this year, why not go for the silent squeak toy? Everybody wins. 
Amazon has a wide variety of choices—giraffes, elephants, skunks or whatever other animal your dog likes to clamp down on and whip from side to side. It also makes for a great stocking stuffer! Chewie will totally dig this. 
Chewy.com offers the TRIXIE Mad Scientist toy for the more advanced dog gamer. This doggie puzzle has three rotating beakers that you can fill with treats…and then sit back and watch your dog work it. You can also increase or decrease the difficulty level using the included beaker lids. It might be maddening to your pup, but it will keep them busy. 
Who can resist a classic? KONG is the king (see what I did there?) of slow treat feeders—guaranteed to keep your four-legged friend busy as they paw, lick and nose their way into the hidden treasure inside. Fill the KONG with treats, a small bone or even peanut butter to keep your canine kid deliciously occupied while you work. 
The classic KONG is a tried-and-true dog toy well known for its durability…and its consistent delivery of doggie fun. 
The Rover store offers a long list of fun dog toys including the PAW5 Snuffle Mat. This inventive gadget puts your pup's keen sense of smell to the test, engaging their innate foraging instincts. You just toss in a few treats or kibble and let them snort and snuffle their way through treat or mealtime. 
The mat comes in a convenient 12" x 18" size (so it's easily storable) and works for dogs of all sizes and ages. It's also a snap to clean. Just throw it in the washing machine and dry on low heat. 
Once you start looking online, you'll find that there are a multitude of puzzle feeders, treat dispensers and other interactive toys to keep your four-legged best friend content and occupied.  
Let the holiday tail wagging commence!
Keeping your canine companion busy and focused is a great way to show how much you love them. And it also offers you a little peace of mind that your dog is happy and content during those times when you can't give them your full attention.  
We dog owners know how deeply our pups feel our absence—whether we're out at the office all day or heads down working from home. They love us beyond compare, so be sure to give the love back with some cool new toys this holiday season. I already have several on order for Chewie!