Raise your hand if your firm collects data. Now raise your other hand if your firm does something with that data.
If you didn't raise both of your hands, your firm is missing out in today's data-driven culture. And if you're not collecting and using data, how can you plan ahead?
The answer is simple: You can't.
There's no point in collecting data if you're not going to use it to your advantage. In order to capitalize on captured data, it needs to become actionable data—information that provides meaningful insights to allow decision makers to chart future success. The data your firm captures can't just sit in a database gathering dust; it must be processed, analyzed and transformed into understandable insights.
But where do you begin? Like anything, it starts with the basics. You need to know what information you want to gather, where you're going to track it, how to analyze it, and finally, how to use that information to make predictions and increase future success to gain a competitive edge over other firms.
An important note: Everyone in your firm must be on the same page when it comes to setting strategic goals—and those goals should reflect evidence-based data. It's what drives firm improvement.
Not only is data important for the client experience, it's also important for the internal firm experience. Trust us; the proof is in the data pudding. Internal improvements (i.e., setting the right price points and choosing profitable advisory services) improve external factors (i.e., ideal clients who are satisfied with your services). So let's get started with…
The KPI basics
Simply put, KPIs are key performance indicators used to measure a firm's success based on goals and objectives related to finances, clients, products and services, and many other possible data points. There's no one-size-fits-all solution when it comes to KPIs. Firms choose what data is important for them to track, and—spoiler alert—it isn't always financial.
KPIs give firms insight to determine how their employees and their firm are performing. They can be high-level, or they can drill down into service-oriented or individual goals. High-level KPIs can point to the performance of the business (i.e., number of returns submitted on time, overall revenue earned), while lower-level KPIs can focus on things like average time spent on each return.
But why are KPIs so important? Because, when tracked consistently, they aid in analyzing past performance to make better use of predictive analytics for goal setting. KPIs will show you where your firm is wasting time and money, as well as the areas (and employees) that are flourishing. In addition, they promote employee engagement, connect purpose and culture, and keep everyone accountable.
Now that we understand the basics, let's learn how to track KPIs.
Tips for tracking KPIs
Deciding what business KPIs are important to your firm's success doesn't have to be complicated. Keep in mind that while there may be some industry-specific KPIs other firms track, their business model may be different than yours. Their focus could be solely on increasing the number of clients, while your focus may be shifting to advisory services over number of returns.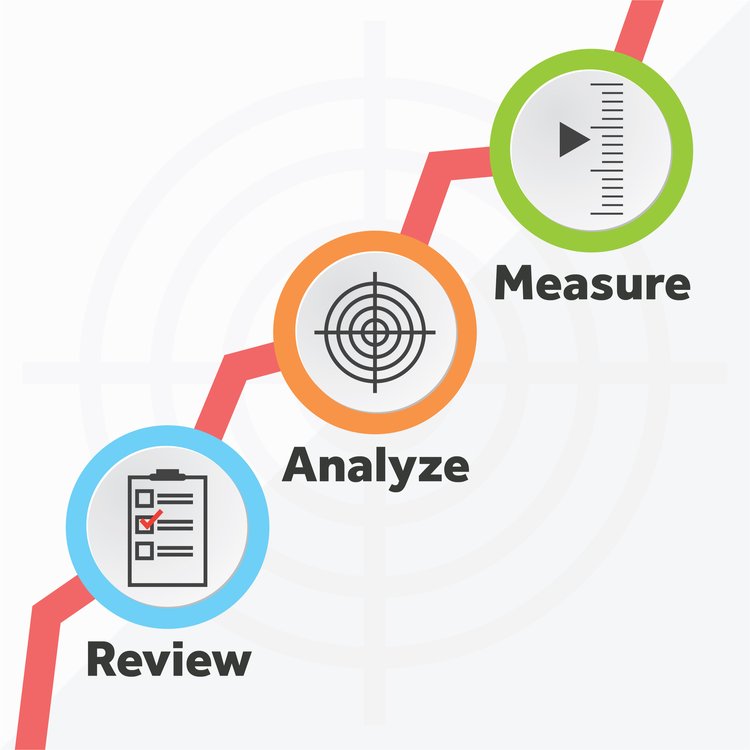 Determine the KPIs relevant to your firm by utilizing these three action items:
Review current firm objectives. Take time to review your current goals and objectives. Is your firm still moving in the same direction? Have your objectives changed? These are important things to consider before setting goals.
Analyze current performance and set goals. Look at past and present performance to determine a baseline for setting KPIs. Are you setting achievable goals for your firm? Focus on setting both short- and long-term goals that allow your team to reevaluate often. Finally, use your current performance to determine your firm's strengths and weaknesses.
Determine how (and when) to measure the results. It's important to plan how your firm will measure the success of individual KPIs. Will you be evaluating goals every 30 days or once a quarter? Consistency is key when assessing performance.
One of the most important things to keep in mind when determining your firm's KPIs is that the data you want to track must be actionable to make strategic and well-informed decisions on future goals and objectives.
We know choosing the right KPIs for your firm can be confusing, so we've gathered several tips to help you define and track KPIs:
Be SMART. Choose specific, measurable, attainable, relevant and time-based goals, but don't create superfluous KPIs for the sake of creating KPIs. Only define ones that align with your firm's objectives.
Share with staff. Make all employees aware of the KPIs being tracked, so each staff member is aligned on the same goals and objectives. They should know what is being measured and how it's being measured.
Review consistently and make adjustments. Set time-based goals so you can review them regularly (i.e., monthly, quarterly, annually). Plan to adjust goals based on the current results.
Invest in a tool for tracking KPIs. Shy away from manually entering data into multiple spreadsheets and creating separate KPI dashboards. Instead, consider investing in a tool like Tally Street by Rootworks so applications can seamlessly sync together in one location for easy access to insights.
Remember to keep it simple, keep firm staff in the loop, review consistently and use a tool to keep all information in one location. When it comes to KPIs, it's better to work smarter, not harder.
Use insights to chart future success
KPIs deliver the insights that will confirm whether you're getting close to achieving a goal or expected results are trending the opposite way. They're a helpful indicator on the road to success. Use the insights you gain to adjust employee and firm objectives.
Using insights the right way will give you a competitive edge over other firms, along with the ability to enhance both staff and client experience by making data-driven decisions. These insights will tell you which areas of your firm are underperforming, and which are performing at or above expectations. If there are services that are performing below expectations, you'll know.
It's time to get started. For more information about using data insights for your firm's future success, check out Tally Street by Rootworks today!