It's not groundbreaking news that the accounting profession struggles with staffing challenges. Firms have found it difficult to find and retain the right talent due to the stereotypes of long hours, busy tax seasons, zero flexibility in work schedules and even firm dress codes.
COVID's unexpected appearance did nothing to help the staffing crisis. For most of 2020, hiring freezes and layoffs were prevalent. Offices closed due to lockdowns and COVID restrictions, and many firms were thrust into a new normal—a virtual workspace for firms and employees alike.
Employees found themselves with a new balancing act—juggling virtual work with a household. Companies worked with their employees to allow for flexibility during this time, which allowed businesses to stay open and continue to provide for their clients.
As restrictions lifted, many companies expected their employees to head back into the office and resume the typical nine-to-five routine. After finally nailing down some consistency between virtual work and home environments, the prospect of returning to the office led many workers to resign and look for positions with more flexibility.
Staffing has always been a human resource challenge, and with the pandemic ushering in a new normal, businesses must have a plan to attract top talent from the current job market. Not sure where to start? We're here to help. Here are four strategies for attacking the staffing challenge.
Strategy 1: Modernize your recruiting process
When thinking about your hiring process, your main goal is to stand out from the crowd. This will help attract the best and most qualified candidates—the power performers. You can't run a modern firm without a modern team to run it. Here are some suggestions to get started on modernizing your recruiting process.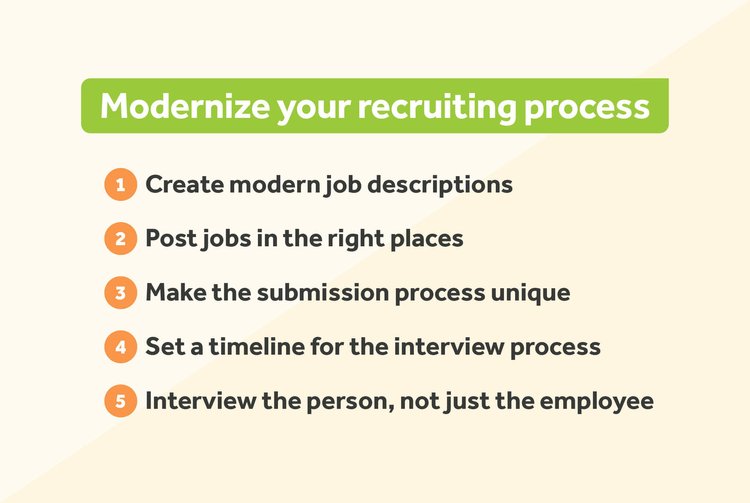 1. Create modern job descriptions: Before you think about posting another run-of-the-mill job description, consider writing new ones from scratch. Think about what will grab a candidate's attention and differentiate your firm from all the others.
The same old, "We are an accounting firm specializing in x, y and z services and are looking for a to join our team" will likely have those power performers scrolling on by.
Take the time to write fresh, new and modern job descriptions. Move away from traditional-speak to ensure the personality and culture of your firm shine through. To attract the best candidates, you have to stand out as a modern employer.
Consider the following example of a modern job description: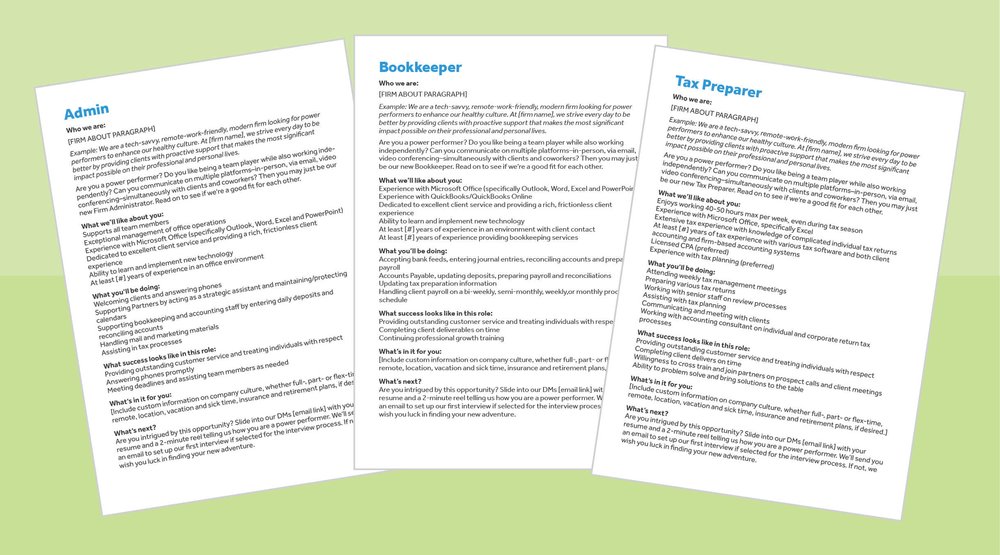 Click here to download sample job descriptions
Also offer a strong "About Us" statement. Sure, you provide accounting services, but is your firm a modern firm? Tech-savvy? Remote-work friendly? Do you promote a healthy culture? These are the keywords that will grab the attention of your future employees.
2. Post jobs in the right places: Attract qualified candidates by posting jobs on sites specifically geared toward accounting: Accountingfly, iHireAccounting and TogetherCPA. These sites will help weed out unqualified candidates, as their focus is solely accounting-based. In fact, Accountingfly is specifically tailored to cloud-based and remote accounting jobs.
Keep in mind that potential employees are looking for jobs in the same places they're looking up reviews of your firm—places like Glassdoor.
As hard as you're looking for the right candidate, they're also looking for the right firm. After all, they'll be spending 40-50 hours per week with you, so loving their job and the work culture are important.
3. Make the submission process unique: Most firms ask for a cover letter and a resume. That's all well and good, but let's face it—it's also sort of boring. Instead of submitting a cover letter, have applicants submit a two-minute video instead.
Ask candidates to tell you what makes them a power performer, what they bring to the table and what makes them unique. This not only pushes the applicant's creativity, but also gives you added insight into their comfort level with technology and a sneak peek of their personality. This will help you identify if they're a good culture fit.
4. Set a timeline for the interview process: This may seem like a no-brainer, but don't let potential applicants dangle during the interview process. Set expectations from the start by:
Setting an application deadline (and stick to it).
Letting applicants know they'll hear from you for the first interview (if qualified) by "x" number of days after the submission deadline.
Communicating that they will move on to the second interview round (if qualified) by a specific date.
Communicating an expected hire date should they be selected after the second interview.
There's nothing worse than a candidate thinking they nailed an interview and then feeling ghosted. Don't lose the perfect candidate because of poor communication and a slow hiring process.
5. Interview the person, not just the employee: When trying to attract top talent, it's important to conduct the interview like a conversation. While you're getting to know the candidate as a potential employee, also get to know the person. Remember, they must be a good culture fit.
Even though you may want to ask, "What are your strengths?" or "What are your weaknesses?" don't be afraid to ask off-the-cuff questions. For example, tell them about a current problem your firm is experiencing and ask how they would resolve the issue. This shows you how the candidate thinks on their feet.
Strategy 2: Offer remote work options
While some workers enjoy working on location, most are looking for flexibility. Offering options for remote work, even if it's a few days a week, will increase your candidate pool. It also allows your firm to expand the job search outside city—and even state—boundaries.
For those worried about employee engagement in a virtual environment, there are many ways to keep in touch with your team, including:
Slack or Microsoft Teams for instant messaging
Zoom for "face-to-face" interaction
Unless you're hiring for a position that absolutely requires specific office hours, also consider offering the flexibility in schedules. Rigid nine-to-five workdays are quickly becoming a thing of the past. Your power performers will expect flexibility to achieve work life balance.
Strategy 3: Up your benefits game
In addition to a remote work environment, offer an unparalleled benefits package. This can include traditional elements such as stock options and healthcare, but you may also want to offer additional benefits to gain a competitive advantage.
Here are a few ideas to up your benefits game.
Offer competitive pay, match 401(k) contributions and provide retirement packages. Give employees the peace of mind that they're building a good financial foundation.
Offer sick days, mental health days and/or personal days in addition to PTO/vacation time—and encourage them to use the time.
Provide meal allowance or gym memberships, along with fun add-ons such as Taco Tuesday or Virtual Happy Hour Friday.
Invest in leadership development opportunities. Is there a course or a certification that would benefit your employee and your firm? Encourage team members to take part and then sponsor their continued education.
Strategy 4: Implement a structured training/career path plan
To ensure that your new hire remains engaged and feels supported, put them on a solid career path. Implement a structured plan so career expectations are clear from the beginning.
Start by creating an onboarding plan for each position in your firm. For example, design a 30-60-90 day plan that creates clear objectives and targets to begin on day one. Rootworks members can access this template here.
The onboarding plan should include the following for each 30-day chunk:
Focus
Priorities
Learning goals
Performance goals (except for the first 30 days)
Personal goals
Be sure to check in at least every 30 days to make sure your new employee is on track with goals. Once they successfully complete their initial 90-day onboarding plan, work with them on an extended career path.
Are there classes or additional learning opportunities that would further their career? Provide employees with a continuing education budget and encourage them to use it. The goal is to help them consistently develop skills and expand their expertise, which will help keep them engaged and excited about their role.
Summary
Finding the right candidates is difficult, especially when you consider the ongoing staffing shortage within the profession. And that means you have to think outside the box.
Gain a competitive advantage by offering remote work options, flexible schedules, a unique benefits offering, and a clear training and career path structure. Follow our four strategies to mount your defense against the staffing challenge.