Gone are the days of limiting your company hires to prospects from within your city limits. Today's technology allows businesses to employ remote workers and expand their workforces outside the confines of geographic limitations.
Even requiring strict work hours is a thing of the past for some businesses, as more companies move to a hybrid or remote workspace. Not only does this allow for flexibility, but it helps promote a thoughtful and healthy culture.
There are numerous benefits to hiring outside your geographical area and allowing your employees to work from anywhere. In this article, we'll dive into three of the biggest advantages of hiring outside your city limits.
Expand Remote Workforce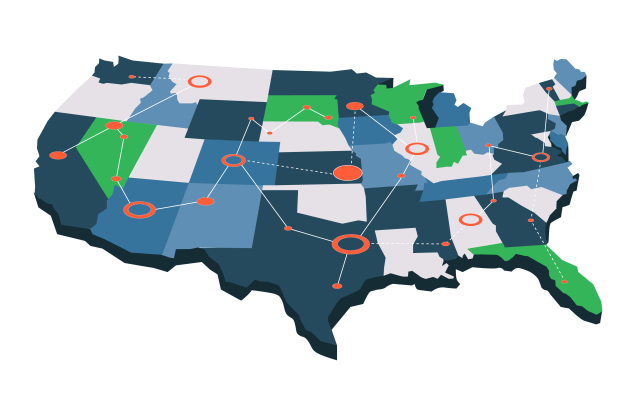 The most valuable benefit to hiring outside your geographical area is that it dramatically expands your remote workforce and exponentially deepens your qualified employee pool.
Now, that may seem obvious, but think about it: If you're only looking for local job candidates, you're unnecessarily limiting the number of job seekers who will be qualified to work for your company.
If you expand your search to your state, geographical region or even nationwide, you're giving yourself the opportunity to hire employees with diverse personal, educational and professional backgrounds. With a larger employee pool to pull from, you can hire the best of the best—no matter where they're located.
Additional benefits to expanding your remote workforce include:
Extended support coverage. Don't let hiring across multiple time zones deter you from building your remote workforce. You can allow your employees to work the typical 9-to-5 schedule or base their workday on their time zone. For example: If you're in the Eastern time zone with 9-to-5 office hours, an employee in the Pacific or Central time zones may prefer to start their days earlier (at 6:00 or 8:00 in the morning, respectively). More time zones provide extended coverage—especially if your company includes customer support positions.
New regional perspectives. Hiring employees from different regions can open new markets for your business. Consider the differences between the markets of a well-known bustling city and a smaller town in a rural state. Employees from each locale can help guide new marketing strategies in their respective areas so you can reach a larger audience. Not to mention, remote sales staff in different states can help increase revenue in these new or expanded markets.
Reduced operating costs. When your team is remote, you're not paying for a large office space. Even if you have a hybrid team, you can lease a space that's much smaller, since you won't need to provide a workspace for each individual team member. Savings can also come from reduced energy needs (e.g., electricity, internet)—and there's no need to keep the company kitchen fully stocked every day with coffee and snacks.
Maintain Work-Life Balance
Hiring outside your geographical area expands your remote workforce, but did you know it also helps your team to maintain a healthy work-life balance?
According to an Owl Labs State of Remote Work report, people save 40 minutes a day on average by working from home. That additional 40 minutes added back into their day could be used for their own personal time, whether they enjoy a cup of coffee before work while catching up on the news, spend time meditating or journaling, or even get in a quick walk or workout.
Eliminating commutes can also increase both mental and physical health. When workers aren't sitting in traffic for more than 30 minutes each day, there's a reduction in anxiety and blood pressure because they're not dealing with the stress that comes with a long commute. By cutting out that driving time before and after work, there are also fewer stops for a sugary caffeine jolt in the morning or a Big Gulp and a snack to tide them over on the drive home.
Remote and hybrid teams gain more flexibility between their work and personal lives. They're able to spread their work throughout the day, so they can run to a doctor's appointment or spend quality time with their children as they chauffeur them to ballet class or soccer practice. And they don't feel stifled by having to ask permission to leave the office. Plus, for companies that don't require set working hours, employees can choose to work during their own peak productivity hours, meaning they'll produce more work in less time.
Improve Company Culture
One of the biggest—and most important—benefits of hiring outside your area is its impact on your company's culture. Not only are you introducing geographic diversity, but you're also adding unique perspectives to your culture. Keep in mind, too, that employees who have the flexibility and work-life balance offered by a remote position are happier, and, in turn, have increased productivity.
Employees feel they're trusted to get their jobs done, even with the flexibility of working outside the office or working outside a typical 9-to-5 schedule. Trusting your employees to complete their work without micromanaging their day is a big boost to the confidence of your team and company morale.
Better yet, employees who are happy and satisfied don't want to leave. They're more engaged in their work, and this extends to serving your customers better. Happy employees not only provide an unmatched client experience, but they also recruit fellow A-level team members who continue to improve the company culture.
Reimagine Your Job Postings
For many companies, the pandemic showed us that hiring and working from anywhere is a viable option. Advancements in technology have made remote work a mainstay in many industries.
Don't miss out on the benefits of expanding your team to include remote employees, like hiring the most qualified candidates, providing a sustainable work-life balance and engaging your employees with an ever-improving culture.
It's time to change the location on your job postings from [enter your city here] to "remote."
Recommended next